Don't Go It Alone: Why Organized Tours are Perfect for Solo Travelers
Traveling on your own can be an exhilarating and liberating experience. The freedom to go where you want, when you want, and do what you want. As much as we may love the idea of solo travel, it also comes with its own set of challenges.
What if I told you that there's a way to enjoy the best of both worlds?
The answer is simple: book an organized tour!
Here is 8 reasons why booking an organised tour will save you more
and ensure a more enjoyable trip for solo travellers. 
You'll feel safe and secure:
Organized tours prioritize the safety of their guests. We have established protocols in place to ensure that you feel secure throughout your trip.
You'll save time and energy:
Let the tour operator/me handle the logistics of transportation and accommodation, while you relax and enjoy your trip. With our local knowledge and connections, we can help you make the most of your time in a new destination.
You'll have a stress-free itinerary:
Planning an itinerary can be a daunting task, but booking into an organized tour means all the details and every details can be organised for you. Enjoy a comprehensive itinerary that highlights the best of your destination without having to worry about where to go or what to see.
You'll save money:
Organized tours often offer an all-in-one package at a lower cost than if you were to plan everything independently.
You'll make new friends:
Traveling with a group of like-minded individuals on an organized tour is a great way to make new friends and create lasting memories.
You'll make the most of your time:
Organized tours are ideal for those with limited time who want to see and do as much as possible. With a pre-arranged itinerary, you can make the most of your trip.
You'll gain a unique local perspective:
Local guides often accompany organized tours. They provide a unique and valuable perspective on your destination. They will take you to places that you may not have discovered on your own and give you a deeper understanding of the local culture.
You'll have peace of mind:
With an organized tour, you can rely on the tour operator/me to fix any issues that may arise, ensuring you have peace of mind throughout your trip.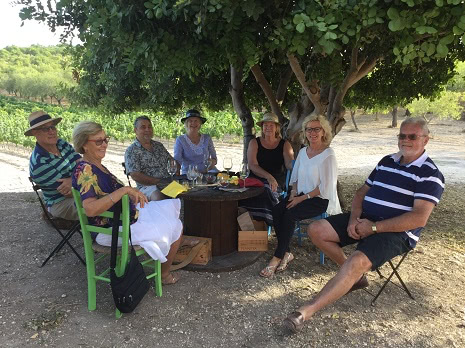 So, if you're considering traveling on your own, then booking an organized tour is a great way to make the most of your solo travel experience.  With all the details taken care of, you can focus on what really matters – enjoying your well-deserved time off! I would love for you join me on one (or more) of my bespoke Food and Wine Tours.
Head over to  https://dominiquerizzo.com/food-tours/ for more information.
You can select an itinerary and immerse yourself in the experience. If you have any questions, feel free to email me at info@dominquerizzo.com.