Sicily's menus are as contrasting as its seasons. They are reflective of its vast and rocky coast lines, its abundant seas and fertile lands. A trip to Eastern Sicily would not be complete without a tour to the exotic and tranquil Aeolian Islands. These jewels showcase another complexity in the riches that Sicily has to offer. Chiefly, volcanic soils and rich rugged lands. This supplies a bounty of seafoods, wild herbs, capers, tomatoes, fennel and wines. On top of this, a lifestyle that only island life can bring. Learn all about the magic of the Aeolian Islands and the stunning Salina, as we get a snapshot of my last tour to Sicily.
As we arrived by hydrofoil stopping at Lipari, Vulcana and then onto to beautiful Salina we all felt a sense of relaxation. The turquoise waters, green mountains of Salina and quaint stone houses sat proudly to greet us.
Salina accomodation
Entering our accommodation here on the island was a spiritual experience. We were all in awe as we felt embraced by the warmth and protection of our new dwellings. Signum resort is one of two resorts on the island although I would have to say that Signum offered more than 5 star accommodation. It offered a place with something incredibly special. A dream, an eye for detail, patience and an understanding of harmonising nature with the land. This is a place where you can truly unwind, transporting you to tranquility. I was blessed with a room which opened onto a small court yard shaded by lemon trees bursting with fruit and a beautiful wrought iron ceramic tiled table and chairs.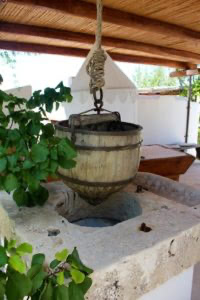 The sitting room on the lower level just beside by room housed a selection of interesting books. The topics ranged from art to food, novels, geography and other interests from all over the world available to read at your leisure. The styling of Signum is stunning. They have thought of everything in every corner, every aspect of this divine sanctuary. Every where you look there is a piece of furniture, a picture, painting something that has been waiting patiently in a store, auction or some lost corner of a shop until the right moment when it was placed with care, with meaning and mission into the resort.
Spa indulgence
The spa area, a resemblance of ancient Greek baths is amazing. Salted mineral pools, warm thermal spas, sauna, all set in stone and surrounded by eclectic pieces of furniture. White lounges and lemon trees taking this place to another dimension of style and relaxation. The ladies and I on tour could not help but indulge in the beauty treatments again in harmony with the natural surroundings. They were designed using only natural ingredients local to the island. Malvasia wine and grapes, capers, oils, wild herbs, salt, lemons and spices.
I loved my caper salt scrub – a blend of capers native to the island and seen growing everywhere. Followed then with a cooling caper gel, painted on my body which was then wrapped up in a thin film of plastic. I was left to relax for 20 minutes where the detoxifying aspects of the capers were left to do their thing. My last indulge was the caper oil massage, a gentle massage using oil of caper, almond and olive. I did smell a little like a salad but my skin felt amazing.
Food
Our four days in this piece of paradise lingered on. We journeyed into Santa Marina the main port of Salina and did a spot of shopping and indulged in the local food and wines. In particular the Malvasia a dessert wine of sweet dried grapes indigenous to the Aeolian islands. Some of us hired Italian cinque cento cars and toured the island dining on local specialties. This included rabbit braised with almonds, pistachios and malvasia, fried fish with sweet and sour onions, pastas flavoured with caper pesto and sundried tomatoes and almonds.
Capers and the caper berries are prevalent in most of the dishes popping up on antipasto plates, in pastas, sauces for fish and meats and on the Pane Cunzata (meaning condited or dressed). The cunzata come almost like a toasted focaccia about the size of a dinner plate. They top them with a variety of ingredients such as ripe red cherry tomatoes, chunks of milky mozzarella, tuna, capers, olives, marinated eggplant, sun dried tomatoes and grated salted ricotta. These are a belly filler and I recommend sharing them amongst 2-3 people.
My other island favorite snack or treat is a delicious granita eaten with or without a soft fresh brioche. Lingua is a coastal village right on the water. Here, you can find traditional fresh almond and pistachio granitas as well as an array of refreshing fruit flavours. Granita is almost like a slushy, a smooth icy drink you eat with a spoon which is very popular in bars all over Sicily and the islands.
Local food traditions
The foods of Sicily are a journey within themselves. One can trace the hands of time through the recipes and flavours that grace the trattorias, cantinas, osterias and local street foods. Seafood of all types is a popular selection through towns along the coast. It is evident that using seasonal local produce is as natural as the life style its self.
Moving towards the inlands you notice a change in the style of eating traditions and also the availability of produce. Here they have retained centuries old recipes for hand made sausages and salamis. As well as meats, wild greens and seasonal fruits. Their dolce, gelati, sweets and pastries are laced with historical trade, exotic spices, nuts, fruits, wild honeys using recipes handed down through the ages.
The simple cooking techniques used by the Sicilians clearly displays the simplicity of the people and the excellence of the produce. Abundance on the dining table is a way of them wanting to embrace you into their culture. As often as I come to Sicily I am constantly reminded of the quality of the foods, the honesty in the cooking and the pride these people have for a life that is for living la bella vita.
Join Dominique on a journey to this unforgettable place
Sicily really is a delicious and rewarding experience. My food, wine and cooking tours dive deep into food, culture and local custom. My aim is to give you a truly memorable holiday. See when I'm off to Sicily next and come join me!