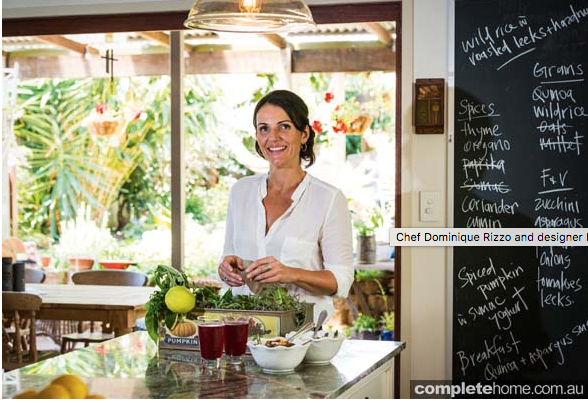 Classes for Corporate and Private events, plus check out Dom's new Mediterranean style Cooking School "The Urban Feast".
Urban Feast Cooking School
Urban Feast Cooking School is a bespoke suburban cooking space in Brisbane's Northside hosting Hands-On cooking classes as well as lifestyle workshops. 
With two purpose built kitchens celebrating our perfect all year round Queensland weather, Urban Feast Cooking School is where people of all culinary levels can come to learn about real food flavours, savvy techniques and delicious food combinations for both indoor and outdoor cooking.
Dominique's passion for a sustainable kitchen, her unique presenting style and repertoire of recipes will help you with your day to day cooking and special event entertaining, making life easy and delicious.
With the past epidemic,  environmental outcomes, public awareness, and market trends, basic cooking techniques and home vegetable gardens are providing a small-scale approach to the sustainable use of natural resources, leading towards self-sufficiency, self-regulation, sustainability, and environmental protection. 
Urban Feast Cooking School is a leader in the trend for suburban community spaces celebrating diversity, urban living, upcycling and making the most out of small space living.
All our set classes are hands-on teaching you real life cooking skills, tips and food tricks that will change the way you see, think and work with food. Our hands-on cooking classes are designed to give you the confidence to be able to "throw " together flavours, ingredients and meals bringing  nutrition and variety to yourself and your family.
 Classes are limited to maximum of 8 guests giving each participant a fun, entertaining, informative and interactive cookery class. Classes are suited to anyone from the complete novice to the true foodie.  
Book one of Dominique's Classes at her New Cooking School "Urban Feast" or email us to organise a date to suit.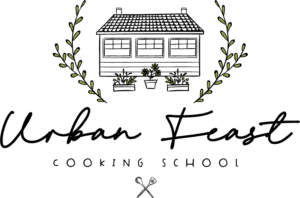 Dominique's focus is on delicious,  creative,  healthy food drawing on her professional experiences and her vast range of food knowledge from her European and World travels.  Classes include international cuisines as well as  cooking for various food intolerances, Vegan, Vegetarian, Low – Carb and Keto. 
Believing that balance is the key to health and happiness, Dominique's skills also include fresh pasta and pizza, barbequing, reduce waste and sustainable cooking, bread and pastry baking,  salads and vegetables, entertaining, and classes covering techniques such as knife skills, fermenting, household preserving and pantry staples.
See our list of classes and workshop dates here or to book a private class for 2 or more people register your details here.
Private & Corporate Classes
As a result of our love of cooking shows, cooking classes are now the perfect way for companies and private groups to engage in a fun, exciting,  hands on activity.  Hands-on Cooking Classes are perfect for specialty event nights, team building and corporate client nights. In addition, facilitated cooking classes are an easy way to celebrate diversity in the workplace.  
With a range of class plans and structures, I can personally create a cooking class to suit your theme, group dynamic or specialty requested cuisine.  What better way to build team morale,  say thank you, mingle with clients,  or just relax and have fun cooking with friends.
A little chopping,  stirring,  sautéing,  grilling,  lots of tasting,  a few drinks,  and then sitting down to a magnificent banquet of dishes prepared by you and your peers, its an experience which can be enjoy by young and old alike.
Accessible Chef Cooking Classes
Here at Urban Feast Cooking School, we believe that cooking is an essential life skill. That is why we have teamed up with Accessible Chef to create our unique cooking course.   For individuals with mild Intellectual Disability and Low Support Needs, our Accessible Chef cooking classes not only equip individuals with the necessary tools for greater independence, but also promote social and community participation and provide them with a sense of belonging.
The Accessible Chef Programme will encourage the development of cooking skills necessary for everyday life including:
– Giving participants who are transitioning to independent living additional cooking skills and independence in the kitchen
– Learning about the importance of healthy foods and creating healthy easy        meals
 – Reading recipes, identifying ingredients and budget cooking through Accessible Chef pictorial recipes with simple steps
 – An introduction to growing your own herbs and vegetables
 – An introduction and sensory experience collecting eggs from chickens,  feeding the worms, and picking fresh herbs and vegetables from the garden for use during the classes
 – Learning safe food handling practices, how to safely use sharp knives, graters, and other cooking utensils and how to safely operate a hot stove and oven
 – Meal preparation and balanced healthy food combinations
 – Table setting and appropriate social skills at mealtime
– Washing of dishes, cooking utensils and cleaning of kitchen
The learning outcome at the end of 10 lessons is that the adult learner with intellectual disability is inspired and empowered to cook a nutritious meal at least 3 times a week with the Accessible Chef recipes at home with their acquired skills.
Dates and class details coming soon
Register your interest and make an enquiry below. 
ACCESSIBLE CHEF COOKING CLASS ENQUIRY
Ready to unleash your inner chef?
Get $10 off your First Urban Feast Cooking Class
Purchase A Gift Voucher for Family and Friends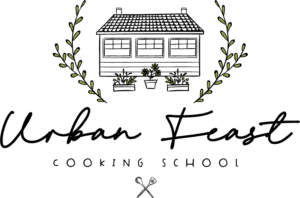 I would like to thank Council for the recent "Love food – hate waste" demonstration at Putia. Dominique was very inspiring. I have collected my compost bucket and intend to take the organic items to the local community garden. Please put on more of these nights – Dominique needs to spread the word further. Many thanks
Thank you again for taking this opportunity to work with Le Creuset.

You have been gracious and a joy to get to know through this experience. I have no doubt that we will build an ongoing relationship going forward.
Thank you so much for such a lovely time last Saturday. We all had a great time and have been cooking lots trying out our new talents, some needs a little more work than others! I have even been looking at pasta makers.

Can you please send me in instructions for making the pizza bases and sauce for the topping.

Sorry we had to rush off to the airport, we did not realise that the day would go for that long as we know you are a very busy lady. If we had not had the plane to catch we might have been there a lot longer so just as well!

Thank you once again and just when you have a moment can you send through the recipe
Thank you very much for the Love Food Hate Waste Cooking Demonstration you presented on Wednesday night. My partner and I found the evening fun, informative and very delicious!

We could see you have a real passion about avoiding waste, and had so many great tips to share about maximising our produce at home. I plead guilty that I had always discarded all the cauliflower leaves, cut way too far into an onion and hadn't ever considered using a corn husk when making stock. I am a changed man and was so inspired upon leaving Putia that evening, that I went home and began stir-frying up some remainders in our fridge that would have otherwise ended up as compost. I made enough lunches for the rest of the week.

You're a natural at presenting but we were amazed how calm your delivery was, with so many things on the go in the kitchen at the same time….and still cracking jokes. A really great evening.

We will now be forwarding on this knowledge to our fellow Brisbane-ites and hopefully we can change the wasteful practices in many Brisbane households.
(sent to "Food I Am")

I just wanted to let you know how much I enjoyed the cooking school on Monday with Dominique. I felt like I was in my element.

I love food and cooking and I just think you've done a great job in starting this sort of thing in Wagga! You've done well to coordinate it all. Everything was so organised and ran so smoothly. Thankyou for being so friendly and enthusiastic – it makes a huge difference and I hope you go really well with your business. I can't wait to choose another class to do later in the year.

I'm glad I bought Dominique's recipe book. I made the meatballs tonight for dinner. They were simple to make and absolutely delicious. This weekend, I'm planning on making the hazelnut tart we made during the class. I'm just wondering where I can get some amaretti biscuits from?
Just wanted to pass on some feedback from Saturday night, everyone had a fantastic time and really enjoyed the demonstration and the food. Please let Dominique know it has been non-stop talk around the office this morning about the night and the food. They all couldn't believe some of the things they tried and loved.

The girls have all asked if we could get the recipe for the Sicilian Chickpea panelle, they loved it and saw how easy it could be made.

If you need any recommendations or testimonials we are happy to help out, l think it was one of the best Christmas parties we have had in a while.
Firstly, thank you for the way that you presented the "Cooking School".

Your skills and passion for food certainly came across in the delivery and left us all in awe of what we ended up creating.

The kitchen will never be safe from me again.
"[...] it was great!!! We all had a fantastic time, [Dominique] is such a wonderful person and presenter, thank you for sharing her with us.

Thanks again. Feedback from staff has been really positive, we knew it would be hard to top Karni (last year's speaker), it will be super hard to top Dominique!"