Further down the East coast from Catania are the towns of Siracusa and the ancient Island of Ortigia. They are considered the cradle of Greek civilisation and one of the most important cities in the Western world. Their magnificent baroque architecture and Greek influence mean these beautiful towns are steeped in history. They house the most impressive and largest Greek Theatre and right in the heart of Ortigia is the Temple of Apollo.
Villa Romana del Casale
A must see is the Villa Romana del Casale in Piazza Armerina south of the little town of Enna. The villa is one of the most impressive and luxurious displays of Roman architecture. With its dark cobbled streets, Baroque monuments of Norman and Gothic architecture and mosaics made by African craftsmen. It depicts life in detail showcasing the wealth, lifestyle and customs over the centuries.
Food in Siracusa
Siracusa gave us some wonderful food memories. We enjoyed the olive oil tastings, and a unique and traditional way of eating ricotta called Ricotta in Cavagna. Which is fresh ricotta set into cane moulds. I couldn't help but to eat mine drizzled with lashings of the delicious extra virgin olive oil from Moresia and Verdese olives. This is a rare olive produced only in small quantities in and around the Ispica region.

Cooking class
We were fortunate to be able to share a wonderful cooking class with locals making fresh bread from semolina flour. We also made pasta al nero diseppia, pepperonata – peppers cooked down with onions in a sweet and sour sauce. In addition to calamari stuffed with caponata, eggplant fritters and a selection of salads. All made with produce purchased that morning from the bustling markets in Siracusa. What a wonderful experience for my tour group. Being able to wander the markets with my guidance – bargaining, buying and tasting our way through the fresh produce.
Salad menu
Our salad menu consisted of zucchini carpaccio salad with fresh brined capers and salted ricotta. We also tried a pear, fennel, rocket and radish salad with orange dressing. Plus a green bean and fresh broad bean salad with olives and lemon. Slightly unusual to the Sicilians was our water melon and sweet onion salad.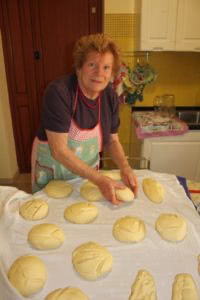 Much to the interest of our Sicilian hosts these salads were somewhat a little strange due to the combination of ingredients. The Signora not too keen on our aldente green beans (Sicilians cook their vegetables especially green beans, broccoli and the like until you can squash them in your fingers). Now, I am a huge fan of the Sicilian over cooked vegetables as I love their soft texture and how they just melt in your mouth. More than often they are always dressed with a delicious olive oil, garlic and lemon juice and seasoned well which makes all the difference to the flavour.
I did notice that our gracious, generous and passionate host "Signora" had sneakily spat out the mouthful of beans into a napkin. With a bit of a look said to the rest of the family… "troppo crudo" too raw! So you can't win them all but I admired that she gave them a try and enjoyed the others. She did however devour our prosciutto and melon, obviously a favorite.
Signora and their wonderful baked bread made with grano de semola. Once baked it is covered with a blanket and almost left to sweat for about 15 minutes. This improves the crust and the shelf life. Eaten warm it was divine with olive oil, salt, oregano and chili flakes.
Would you love a food and cooking experience in Sicily like this?