The Brisbane Convention and Exhibition Centre was recently named the World's Best Convention Centre by the International Association of Congress Centres and best in the world for Food & Beverage, receiving double the ratings of other international convention centres.  With such an impressive reputation, The Brisbane Convention and Exhibition Centre celebrated the launch of their new menu  "Fill up on Life".
Master of ceremony at the event was Chef Dominique Rizzo, widely known for her quest to share her passion for healthy, pure food not only at Putia Pure Food Kitchen, her restaurant in Brisbane but all around Queensland and beyond.
Chef Dominique Rizzo gives a sneak preview of her experience at the spectacular promotion of the Centre's new menu and food concepts, offering arguably the best produce Australia and Queensland have to offer.
With this launch, the Brisbane Convention and Exhibition Centre (BCEC) celebrated a giant leap forward in convention catering by now offering mainstream healthy dishes and options to people with dietary needs. Gone are the days of heavier, traditional convention food, instead welcoming in a new style focusing on nourishing, energy-giving foods prepared in a bespoke kitchen tailored to meet guests' special dietary requirements; implemented in response to the high demand for dietary requests at 20% to 30% of all meals.   In another first for convention catering, the leading direction at BCEC comes from the wonderful influence, knowledge and experience of Queensland Ambassador Chef, David Pugh, recipient of many hats for his acclaimed Restaurant Two.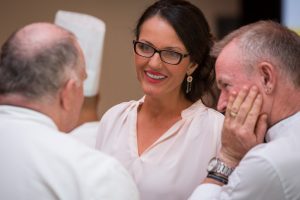 Choosing Chef Dominique Rizzo to host the launch was a natural fit as these same principals underpin both her menu that she offers at Putia Pure Food Kitchen and their menu at Brisbane Convention and Exhibition Centre, promoting a "nourish mentality" using locally sourced, sustainable, seasonal produce. Dominique defines the convention centre's new boutique menu as one crafted around Queensland flavours and nutrients that will feed the type of energy and atmosphere that participants want at every stage of their conference or event. This menu, for the health conscious, provides the necessary nutrition to focus minds and energy to keep going through those long conference afternoons.
So too, good nutrition is the key to the menu choices at Putia, where there are sensational taste sensations for those who are gluten free, dairy free, egg free, vegan and vegetarian. That is why Chef Dominique Rizzo and the Brisbane Convention and Exhibition Centre make a great combination, sharing the same values when it comes to nourishing your mentality and filling up on life.
https://dominiquerizzo.com/wp-content/uploads/2017/02/1BCECML-30lr.jpg
733
1100
Dominique Rizzo
https://dominiquerizzo.com/wp-content/uploads/2014/09/Dominique-Rizzo-Pure-food-logo.png
Dominique Rizzo
2017-02-22 16:47:38
2017-03-01 11:12:03
"Fill up on life" with Chef Dominique Rizzo at the Brisbane Convention and Exhibition Centre Launch of their New Menu