Sales of pies and chips are skyrocketing in the football season.
For the fans maybe, but that is not Footy Food for the premium Maroon State of Origin team.
That's the tip from the experts. Our Deadly Choices stars Nathan Appo and Steve Renouf and Brandi Alberts shared their tips on "Good Quick Tukka" at the Maroon Festival on Sunday 28th May 2017. Now Rugby League players are into healthy, wholesome food, balancing protein and vegetables and fats that sustain the players' energy levels for peak on-ground performance.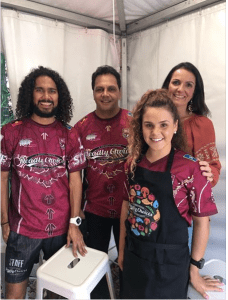 The insider tips from Rachel Thaiday and Kayla Boyd on "Fueling the Athlete" in their families, are all about healthy choices for breakfast, preparing tasty high protein, low carb options like avocado and bacon, omelettes and lots and lots of chicken. Commercial fruit juices and breakfast cereals are out, fresh vegetables and fruit are in. These Maroon's stars eat healthily to sustain their peak fitness levels throughout training sessions and at the games.
These are my healthy diet choices too and it is this nourishing pure food that is a specialty at my restaurant, Putia Pure Food Kitchen where our athletic, sporty customers come in after training for their high protein, low carb breakfasts opting for the Putia big breakfast or Omelette of roasted cauliflower or house-smoked salmon with poached egg and salad.
While healthy foods are the game changer in fueling the mighty Maroon State of Origin squad physically and mentally for those gruelling football games, pies and chips once in a while for the fans may not be such a bad thing.
#Maroon Festival #qldr #Rugby League #State of Origin 2017
https://dominiquerizzo.com/wp-content/uploads/2017/05/Kayla-Boyd-Rachel-Thaiday-Lisa-Carlaw-DR-SarahWills-e1571901388566.jpg
665
374
Dominique Rizzo
https://dominiquerizzo.com/wp-content/uploads/2014/09/Dominique-Rizzo-Pure-food-logo.png
Dominique Rizzo
2017-05-31 14:13:36
2017-05-31 14:13:36
Footy Food