Being on the Fresh Food stage at the EKKA is always fun, exciting with lots of great people in the audience, coming up saying hello to me and our guest presenters. There have been so many requests for my recipes this year. Everyone seems to be inspired by what was on show the
re, so here are Dominique's Top Recipes – EKKA 2015 for you to get in and cook yourselves. Let me know your favourites.
1. Chocolate mousse cups with orange segment salad and praline spiced pecans
Makes 4 cups.
1 pkt of Nicholson Fine Foods Chocolate mousse
4 cups raw pecan halves
1⁄4 cup unsalted butter, melted
1 1⁄2 tablespoons chili powder
1⁄2 teaspoon cayenne pepper (optional)
1⁄2 cup firmly packed light brown sugar
Preheat oven to 170c.
For the chocolate mousse follow instructions on the packet.
Line a baking sheet with parchment paper.

Place pecans and melted butter in a large bowl and toss until nuts are well-coated.
Add remaining ingredients and toss again.
Transfer to prepared baking sheet and arrange in a single layer.
Bake until lightly browned, about 20 minutes.
Remove from oven, immediately loosen nuts with a metal spatula and set aside to cool before serving or placing in gift containers.
2. Spiced Palmiers
Makes 64 slices
1/2 cup sugar
4 teaspoons ground cinnamon
1 tablespoon ground cardamom
2 teaspoons ground allspice
1 teaspoon ground cloves
1 package frozen puff pastry thawed
All-purpose flour (for dusting)
3 tablespoons unsalted butter, melted, divided
Line a baking sheet with parchment paper. Mix sugar and spices in a small bowl. Unfold pastry on a lightly floured work surface into a 14×10-inch rectangle, rolling out if needed. Brush lightly with butter. Sprinkle 1/4 cup spiced sugar over. Cut in half lengthwise.
Fold both long sides of 1 pastry strip so that outer edges meet in the center of strip. Brush with more butter; sprinkle with 2 tablespoons spiced sugar. Fold in half lengthwise, forming a 14 inch-long log about 1 inch wide. Repeat with remaining pastry strip.
Place logs on prepared baking sheet, cover with plastic wrap, and chill until firm, about 30 minutes. Preheat oven to 210°. Line 2 baking sheets with parchment paper. Cut each log crosswise into 1/4-inch slices. Lay slices flat on prepared baking sheets, spacing 1 inch apart.
Bake palmiers until golden on bottom, about 8 minutes. Using a thin metal spatula, turn palmiers over. Brush lightly with butter; sprinkle with more spiced sugar. Bake until sugar is bubbly and pastry is golden brown, about 15 minutes longer. Transfer palmiers to a wire rack; let cool. Palmiers can be made 2 days ahead. Store in an airtight container at room temperature.
3. Quick baked buttered Strawberry sponge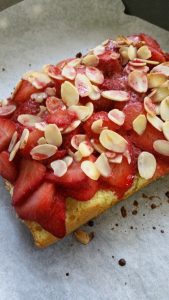 500g strawberries, large
1 cup verjuice
Zest of 1 lemon
1 teaspoon of ginger, grated
1 small sponge cake, sliced into 1 ½ cm slices
4 tablespoons sugar
50g butter
3 tablespoons flaked almonds
Method:
Preheat the oven to 220c
Carefully wash the strawberries and remove the stalks, drain well and pat dry. Place the strawberries into a small saucepan and sprinkle with the cinnamon, lemon zest and grated ginger. Add in the verjuice and stir over medium heat for about 30 seconds. Drain and reserve the liquid and keep the strawberries aside.
Place the sponge slices in a baking dish overlapping them to cover the base of the dish.
Pour the reserved strawberry and verjuice liquid on the sponge and arrange the strawberries on top.
Sprinkle with the remaining sugar, flaked almonds, thin slices of the butter. Bake the strawberries in the oven until they have caramelized on top and turn golden brown.
Strawberries have always been considered to be quite delicious and their sweet flavour has been praised in various Latin texts. Since ancient times, this red berry has been believed to be an aphrodisiac and associated with love stories. According to one legend, the first strawberries grew out of the tears of Venus, the goddess of love, who was crying over the loss of her love, Adonis. Centuries later, in the court of Louis XIV, the King of France, it seems as though ladies would seduce the knights of the court by tossing strawberries at them. The ladies would also eat strawberries paired with the newly invented Chantilly cream.
The strawberry is not the fruit of the strawberry plant? The actual fruit of the strawberry plant are the small yellow seeds that cover the outside of the berries and are called achenes.
4. Quark quiche with bacon and leeks                                                           
Serves 4-6
75g butter
2 ½ cups plain flour
2½ tablespoons Quark
3 Tablespoons Water
½ Teaspoons Salt
1 tablespoon of butter
1 leek, thinly sliced
150g bacon
½ cup Grated cheddar cheese
1 cup Milk
½ cup quark
3 Eggs
1 Pinch Pepper
1 Pinch Salt
Method
Combine the butter, flour, quark, water and salt in a food processor until the mixture comes together in a soft ball. Knead for a couple of minutes and press into a greased quiche or greased and lined cake tin with removable base. Refrigerate for 10 – 15 minutes. Heat a small frypan and melt the butter, add the leek and the bacon and sauté for 10 minutes until the leeks have softened. Allow to cool slightly.
Preheat the oven to 180c. Blind bake the pastry for 15 – 20 minutes until golden. Remove from the oven and allow to cool. Into a bowl combine the remainder of the ingredients and whisk well, season with salt and pepper. Place the cooked leeks and the bacon into the base of the tart, pour over the filling and bake for 35 minutes until set to touch and golden brown on top.
5. Roasted Root Vegetables with browned butter                                      
Serves 6-8
For the vegetables:
700g shallots, peeled and quartered lengthwise (leave the root intact)
700g turnips, peeled and cut in 3/4-inch pieces
1.5kg butternut squash, peeled and cut in 1-inch pieces
500g parsnips, peeled and thinly sliced
700g baby cut carrots
500g baby red potatoes (abut 2-inches in diameter), halved
50g Salted Butter, cut into bits
2 tablespoons olive oil
2 teaspoons salt
1/2 teaspoon black pepper
For the Browned Butter:
120 Salted Butter, cut into bits
Sage
1/2 teaspoon salt
Method
Preheat oven to 200c. Combine all of the veg and melt the butter with the olive oil , salt and pepper, toss this over the vegetables and roast for about 50 minutes, rotating the pans and tossing the vegetables every 15 minutes. Remove from oven and transfer to a large bowl.
Towards the end of cooking, make the browned butter: place the butter and 1/2 teaspoon salt in a saucepan over low heat with the sage leaves. Cook, swirling occasionally, until the butter has a nutty aroma and is amber brown.
Just before serving, toss the vegetables with the browned butter.
6. Italian yoghurt flat breads with herbed yoghurt cheese and basil tomatoes                      
3 self-rising (self-raising) flour
3 cups natural yogurt
2 tablespoons water
sea salt
2 very ripe tomatoes
Hand full of basil
Virgin olive oil
Combine the self-rising flour the greek yogurt and salt in the bowl of an electric mixer fitted with the hook attachment. This can also be done by hand. Mix the 2 ingredients until the dough starts to form. If the dough is dry, add 1 tablespoon of water. Continue to knead and bring the dough together. If the dough is still barely holding, add the second tablespoon of water.
Dump the dough out onto a large, lightly floured surface. Work the dough out into a large disc. Divide the dough into 10 equal pieces. Roll each piece out until it is about ⅓ inch in thickness and has a 6 inch diameter.
Place a griddle pan on high heat and let it get very hot. Cook the flat breads on each side for 2 minutes until golden. The flat breads should puff up and have a light char colour. If desired, brush each side with olive oil and a small pinch of sea salt. Serve with sliced fresh tomatoes, torn basil and your favourite cheese.
Yoghurt Labne
500g of yoghurt (hung in muslin over a colander for two days in the fridge)
Herbs
2 tblsp Parsley, chopped
1 tblsp Thyme, chopped
1 tblsp Mint, chopped
Zest of 1 lemon
Olive oil to cover
Combine the labne with the herbs and lemon zest, spoon in=to a clean jar and cover with olive oil. Keep in the fridge for up to a month and use for cheese plates, spreading on breads and crackers.
7. Crostini with roasted grapes, blue cheese, and honey
Serves 20 – 25 pieces
This easy appetizer is perfect for parities
500g Red grapes, removed from the stems
1 tablespoon olive oil
1 French baguette, thinly sliced and toasted
100g Blue cheese
Honey, for drizzling
1. Preheat oven to 170c. Place grapes on a large baking sheet. Drizzle grapes with olive oil and gently toss. Roast for 20-25 minutes or until grapes are soft and slightly shrivelled. Let the grapes cool to room temperature.
2. Place 3 grapes on top of a baguette slice. Top with blue cheese and a drizzle of honey. Serve.
(Toast baguette slices-preheat oven to 200c . Place baguette slices on a large baking sheet and toast until edges are slightly golden and bread begins to toast, about 5 minutes.)
8. Apple and fennel and blue cheese salad                                    
Serves 4-6
1/4 cup extra-virgin olive oil
2 tablespoons cider vinegar
1/4 teaspoon salt
1/4 teaspoon freshly ground pepper
1 large crisp, sweet apple, thinly sliced
1 medium fennel bulb, quartered and thinly sliced, fronds reserved
6 cups torn butterhead lettuce
1/3 cup crumbled blue cheese
Whisk oil, vinegar, salt and pepper in a large bowl. Add apple and fennel and toss to coat. Chop 1/4 cup of the fennel fronds and add to the bowl along with lettuce and blue cheese; gently toss.
9. Maple Apples, Blue Cheese and Bacon Pizza
Makes 2 small pizzas
1 x quantity of yoghurt flat bread recipe
2 small apples, thinly sliced
⅓ cup maple syrup
250g shredded Italian blend cheese
4 slices cooked bacon, cut into thick pieces
½ cup roasted garlic cloves
80g blue cheese
Preheat oven to 260c.
Flatten out the dough onto greased trays and bake until golden and just cooked – about 5-6 minutes. Drop the oven temperature down to 200c.
Place the sliced apples in a small bowl and pour the maple syrup on the sliced apples and set aside.
Layer the pizzas with some of the shredded Italian cheese then top with slices of the apple, half of the bacon, garlic cloves and chunks of blue cheese.
Bake for 8-10 minutes or until the cheese is melted and the crust is golden. Drizzle with additional maple syrup, cut and serve immediately.
10. Blue cheese and bacon salad
For the Blue Cheese Dressing
1 cup sour cream
½ cup real egg mayonnaise
3 tablespoons natural yoghurt
3 teaspoons red wine vinegar
½ teaspoon Worcestershire sauce
Salt and pepper
1 ½ teaspoons freshly ground black pepper
80g blue cheese (reserve a few chunks for garnish)
Chopped chives (reserve a few for garnish)
For the salad
1 baby cos lettuce, cut into quarters
4 strips bacon, cooked, cooled and chopped
4 medium size tomatoes, cut into wedges
Method
Add all of the dressing ingredients to a medium bowl and stir well to combine. Refrigerate for at least 30 minutes.
Remove any limp outer leaves of the lettuce head and then cut in half, then cut each half into quartered wedges. Place each wedge on a plate, drizzle with the blue cheese dressing, top with a few crumbles of bacon, a sprinkling of chives and reserved blue cheese chunks and add a few wedges of tomato on the side. Give one more sprinkle of freshly ground black pepper and serve.
11. Root vegetable hash browns
serves 4
baby red potatoes (or other waxy baby potatoes) – unpeeled and cut in 3/4″ pieces
sweet potatoes (or yams) (1 medium) – unpeeled and cut in 3/4″ pieces
parsnips (or turnips or celery root/celeriac) – peeled and cut in 1/2″ pieces
carrots – peeled and cut in 1/2″ pieces
2 teaspoons sea salt (to boil the vegetables)
4 shallots – root ends trimmed, tops trimmed 3" from the edge and cut in 1/4″ slices
5 tablespoons extra virgin olive oil
1 large sweet onion – skinned and cut in 1/2″ pieces
1 1/4 teaspoons sea salt
freshly ground black pepper to taste
Boil veg together, drain and let cool, smash gently with fork, season and add chopped shallots , herbs. Bring a frypan to high heat with oil and press in hash cake, brown until crunchy then turn over, brown other side, then serve topped with
Place the potatoes, sweet potatoes, parsnips, carrots and salt in a large heavy-bottomed pot and fill with enough cold water to cover the vegetables by 2″. Bring to a boil over medium-high heat. Once boiling, fast-simmer uncovered for 6 to 7 minutes until the vegetables are tender. Drain and let cool for a few minutes. Place the vegetables in a large bowl and slightly crush with the back of a wooden spoon. Add the scallions and stir to distribute them evenly. Set aside.
Heat a large non-stick frying pan over medium-high heat. Add 4 tablespoons of olive oil and the onions. Toss well and sauté for 2 minutes until the onions have softened. Add the root vegetable mixture and the salt and pepper. Toss well and flatten the vegetables with a spatula so that they're compact in the pan. Reduce heat to medium/medium-high and sauté undisturbed for 8 to 10 minutes until browned. Shake the pan to loosen the vegetables, then invert them onto a large platter. Return pan to stove and add the balance of the olive oil. Slide the vegetables back into the pan, uncooked-side-down, and continue to sauté undisturbed at medium/medium-high heat for 6 to 7 minutes until browned. Slide the hash browns onto a serving platter and serve immediately.
Cook's note: The hash browns can be made up to 4 hours ahead and kept at room temperature. Keep the hash browns in the frying pan and re-heat over medium-high heat until hot. Alternatively, transfer to a baking sheet and re-heat at (220°C) until hot, about 6 to 8 minutes.
12.  Polenta and Blue Cheese Butter
Soft Polenta
4 cups water, plus more as needed
4 cups milk, plus more as needed
3 tablespoons butter
2 teaspoons salt
2 cups polenta
1/2 cup creme fraiche
1/3 cup Parmigiano-Reggiano
Directions
In a large saucepan, bring the water, milk and butter to a boil. Add 2 teaspoons of salt to the water and whisk in the polenta. Whisk constantly for 3 to 4 minutes to prevent lumps. Simmer for 45 minutes, partially covered and stirring every 10 minutes, until the polenta is thick, smooth, and creamy. Add the creme fraiche and Parmesan. Check for seasoning and adjust consistency by adding milk or water to the polenta. Polenta may be made up to 20 minutes ahead of time and kept covered until ready to serve.
Blue cheese butter sauce
1⁄2 cup butter softened
1⁄2 cup crumbled blue cheese
1 tablespoon chopped parsley
1 tablespoon chopped fresh basil or 1 teaspoon dried basil
1 clove garlic, minced
In a small bowl combine butter, blue cheese, parsley, basil and garlic.
Set aside.
Grill steaks to desired doneness.
Top each steak with a generous amount of the butter mixture.
Chill the remaining butter for another time.
(Try the butter mixture tossed with hot cooked vegetables).
13. Vegetable Caponata and Buttered Herb Pistou
3 large onion, chopped
1 celery, including leaves, chopped
1 cup olive oil
5 capsicum, deseeded and diced
2kg aubergines, cut into 2.5cm (1 inch) chunks
3 tbsp salted capers, soaked in water for 10 minutes, then drained
2 tbsp sugar
3 tbsp white wine vinegar
55g (1 3/4 oz) concentrated tomato paste
Salt and pepper
Chopped parsley
Blanche the onion and celery in lightly salted water for a few minutes, then drain.
Toss the eggplant chunks and the red capsicum with the ½ the olive oil and roast in a hot hot oven until golden brown. Add the onion, celery and all the remaining ingredients. Stir well, then cover and cook for about 15 minutes, removing the lid of the pan towards the end of cooking. Should the sauce require extra moisture, add a tablespoon or two of water during cooking. Season to taste with salt and pepper. Toss with chopped parsley to serve
Buttered Herbed Pistou
1 1/4 cups flat-leaf parsley
1 cup fresh chervil leaves
3/4 cup fresh tarragon leaves
Kosher salt
1/2 garlic clove
2 tablespoons extra-virgin olive oil
Blanch herbs in a large pot of boiling salted water for 10 seconds. Using a slotted spoon, transfer herbs to a medium bowl of ice water to cool. Drain. Squeeze dry; chop. Purée herbs, garlic, and 3/4 cup ice water in a blender until smooth, about 3 minutes. With machine running, gradually add oil. Season with salt.
Blend some of the herb pistou with softened butter and serve with the lamb.
14. Branded Beef JBS Brazilian Tri Tip beef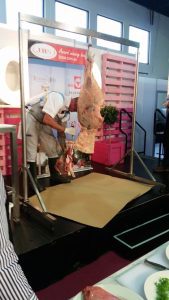 The tri-tip is a cut of beef from the bottom sirloin sub primal cut It is a small triangular muscle, usually 750g – 1.2kg in weight. It's a lean cut texturally, it resembles a flat cut brisket, though it doesn't have nearly as much outside fat. It's not huge on beef flavour or fat, so it's a generally good idea to season it generously and serve it with a flavourful sauce.
Brazilian Roast Tri Tip Beef with Santa maria salsa
For the beef
1 teaspoon ground black pepper
2 teaspoons ground cumin
1 tablespoon paprika
1/2 teaspoon ground coriander seed
1/2 teaspoon cayenne pepper
1 tablespoon dark or light brown sugar
2 medium cloves garlic, minced (about 2 teaspoons)
1 tablespoon salt
1 tablespoon vegetable oil
1 whole tri-tip roast, (about 1 ½ kg) or 1 top sirloin roast
Combine pepper, cumin, paprika, coriander, cayenne, brown sugar, garlic, salt, and oil in a small bowl to form a paste. Set aside.
Rub steak with paste, sear on all sides and then roast for 20 minutes turning and flipping occasionally until an instant read thermometer inserted into the thickest part of the steak registers 55c for medium rare, 20 to 30 minutes
Transfer to a cutting board and let rest for 10 minutes. Slice thinly and serve.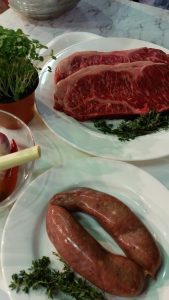 Salsa
2 large ripe tomatoes, diced
1 stalk celery, peeled and diced
4 green shallots/ spring onions chopped
1 fresh green chili diced
1/4 cup chopped fresh coriander leaves
2 medium cloves garlic, minced
1 tablespoon red wine vinegar
1 teaspoon Worcestershire sauce
salt
Combine tomatoes, celery, shallots , chili, coriander, garlic, vinegar, and Worcestershire in a medium bowl and toss. Season to taste with salt. Let the salsa sit at room temperature for at least 1 hour before serving. Serve. Refrigerate leftovers in a sealed container for up to 5 days.
15. Spicy Beef Short Ribs                          
Marinade
1 tablespoon cumin, toasted & ground
1 tablespoon coriander, toasted & ground
1 1/2 cup brown sugar
2 tablespoons smoked paprika
1 tablespoon chilli, dried
1 tab hot chilli, (bonnet) chopped
1 onion, sliced
1 cup beer
1 large clove garlic, chopped
1 tablespoon grated ginger
4 fresh bay leaves
2 cups white wine
2 tablespoons Tabasco sauce
2 cups honey
¼ cup thyme, chopped
Salt and Pepper
3kg of ribs bone in.
Method:
In a small bowl, combine mustard, sugar, chili powder, cumin, paprika and salt. Sprinkle the mixture all over the ribs, rubbing it in with your fingers, and set aside for at least 20 minutes, or cover and refrigerate for up to 1 day.
Preheat the oven to 170c. Cover a large baking sheet with aluminium foil and place the ribs on it. Bake in the middle of the oven until the ribs are fork-tender and the meat has shrunk away from the ends of the bones, about 2 hours.
When ribs are tender, prepare a grill for medium-heat cooking. Mix the barbecue sauce with a tablespoon or two of water (this will make basting easier). Place the ribs on the grill and cook, turning them and basting them frequently with the sauce, until well browned and nicely glazed, about 15 minutes. (Be careful not to let the sauce burn; move the ribs to a cooler area of the grill if they begin to char.) Transfer to a platter and serve.
16. Grilled Pork loin tortillas with bean salsa and spicy achiote aioli      
Serves 4
4 pork loin steaks
2 tsp brown sugar
½ tsp ground cumin
1 tsp oregano
¼ tsp ground chili
1 tsp smoked paprika
¼ tsp ground black pepper
¼ tsp salt
1 tsp of sunflower oil
For the salsa
2 round tomatoes, deseeded and diced
1 lebanese cucumber, deseeded and finely diced
2 tblsp coriander leaves and stalks, chopped
½ red onion, finely diced
2 eschallots ( green onion) finely sliced
1 cup cooked black beans ( you can use turtle beans or black eye beans)
2 tblsp olive oil
2 tblsp lime juice
Salt and pepper
Achiote paste
Whole egg aioli
Pat dry the pork sirloin steaks and set them aside on a plate. Combine the brown sugar and all the spices together rub this into the pork steaks leaving them to sit in the fridge for at least 20 minutes.
Combine all the ingredients for the salsa and season with salt and pepper to taste. Place this in the fridge while you are cooking the steaks.
Heat a griddle pan, fry pan or barbeque and drizzle the sunflower oil onto the steaks. For a perfectly cooked pork sirloin steak, cook the steaks on one side for 6 minutes without turning. Turn the steaks over and cook on the other side for 2 more minutes, this will cook the steak to a perfect white, if you prefer them a little pink in the middle then reduce the cooking time. Remove the steaks from the pan and allow them to rest for 2 minutes. Serve the steaks with the salsa and toasted flat breads. Combine the aioli with the achiote paste and adjust the seasoning. Serve with the pork.
17. Slow braised spiced pork belly w roast pumpkin, green beans and ginger soy dressing
1 kg pork belly, skin on
1 large pinch of sea salt
½ cinnamon stick
5 cloves
2 star anise
1 tsp fennel seeds
Braising liquor
1 litre chicken stock
3 tbsp shaoxing wine
3 tsp miso paste
12 garlic cloves, roughly chopped
3 bird's-eye chillies, deseeded, roughly chopped
½ cup coriander roots, washed, roughly chopped
Dipping sauce
½ cup kecap manis
½ cup light soy sauce
½ cup malt vinegar
1 tbsp sesame oil
1 tsp chilli paste
2 cm piece fresh ginger, peeled and finely grated
Coriander leaves for garnish
Preheat the oven to 200°C.
To make the spice mix, toast the ingredients in a dry frying pan for 5–10 minutes, or until fragrant. Leave to cool then place in a spice grinder or mortar and grind to a powder.
To make the braising liquor, whisk the stock, wine and bean paste together in a mixing jug, then add the remaining ingredients.
Use a very sharp knife to score the skin of the pork belly in parallel lines, about 1 cm apart. Rub the spice mix and sea salt into the skin, working it well into the incisions. Lift the pork belly into a deep roasting tray that is just large enough to contain it snugly. Pour in enough of the braising liquor to come to just below the skin, so the meat is submerged (make sure all the aromatics are evenly distributed around the pork).
Cook covered overnight until tender, cover with baking paper and set in the fridge until firm. Cut into portions and season with spice mix, return to a hot oven of 200c to heat – about 20 – 30 minutes. Combine the dressing ingredients and arrange the pork on top of roasted pumpkin and green beans, drizzle over the dressing and top with coriander.
18. Italian style crumbed pork cutlet with fresh fennel and apple slaw                
Serves 4
4 pork cutlets
1 egg
1 ½ cups bread crumbs
Zest of 1 lemon
Handful of parsley
1 clove garlic
½ cup grated parmesan cheese
1 tsp fennel seeds, crushed
Salt and pepper
125ml Litre olive oil for frying
1 bulb of fennel
1 apple
Squeeze of lemon
1 carrot carrot
3 long green shallots
Hand full of mint leaves
2 tbsp good quality mayonnaise, unsweetened
1 tblsp verjuice
1 tblsp lemon juice
Drizzle of olive oil
20g flaked almonds toasted in a dry fry pan until golden
Using a meat mallet, slightly flatten out the cutlet and season it lightly with salt and pepper.
Whisk the egg into one bowl and in another bowl combine the bread crumbs with the lemon zest, chopped parsley, garlic, grated parmesan, fennel seeds and season lightly with salt and pepper. Place the cutlet into the egg mix then press it into the crumbs. Heat the oil in a large pan over moderate heat and fry each cutlet until golden, about 2 minutes on each side. Place the cutlets onto a tray and into the oven for a further 5-6 minutes.
Shred the fennel, apple and dress with the lemon juice. Into a separate bowl combine the shredded carrot, thinly sliced shallots, mint leaves, then whisk together the mayonnaise, verjuice and lemon juice. Toss together the salad and serve this with the cutlet garnished with the toasted almonds.
19. Diced Pork stirfry with sticky chili ginger baked vegetables, lemongrass rice      
3kg diced pork marinated with sesame oil, soy sauce, garlic and ginger
Vegetables
2 bunches shallots
5 cobs of corn, kernals removed
3 eggplants, diced
3 capsicums, deseeded and diced
2 heads of broccoli, florets
4 bch bok choy , shredded and blanched
1kg bean sprouts
2 bunches of coriander
2 stalks lemon grass
1.5kg rice
Dressing
½ cup kecap manis
½ cup light soy sauce
¼ cup malt vinegar
1 tbsp sesame oil
1 tsp chilli paste
5 cloves of garlic
2 cm piece fresh ginger, peeled and finely grated
Coriander leaves for garnish
Season the pork and fry off in batches until golden but still tender.
Toss all the vegetables except the bok choy and the bean sprouts with vegetable oil and bake in a hot oven for 15-20 minutes until golden brown. Toss the vegetables with the blanched bok choy and fresh bean sprouts and toss with the cooked pork. Pour over the reduced dressing and serve with the rice and
Cook the rice in the cooker with bashed stalks of lemon grass.
20. Cauliflower cream and beetroot relish
1 large cauliflower, cut into small florets
2 medium onions, roughly chopped
1 bayleaf
Enough milk to cover just cover the cauliflower
ground white pepper
2 tablespoons of butter
Method
Put the cauliflower, onions and bay leaf in a large pan, then pour in enough milk to almost cover. Bring to a simmer and cook for 15-20 mins, or until the cauliflower is completely tender.
Using a slotted spoon, transfer the cauliflower and onion to a blender with a ladleful of milk, and blitz until smoothly puréed. Add more milk if you like, mixing to soften to your preferred consistency. Season with salt and pepper. (Can be made to this stage a day ahead. Keep chilled and reheat before serving.) Serve with a knob of butter melting on top.
Beetroot relish
Ingredients
750 g beetroot
1 brown onion, peeled and diced
2 cup balsamic vinegar
1 cup water
3 tsp yellow mustard seeds
2 cup sugar
2 whole cloves
2 peelings of orange rind
1 pinch sea salt *to taste
1 pinch ground pepper *to taste
Method
Peel and process beetroot and onion in a food processor. In a covered frying pan, fry mustard seeds in a little oil. Add all ingredients to a large deep frying pan or large saucepan.
Place over medium heat, cover and bring to the boil. Cook for 30 minutes or until the beetroot is soft and the liquid has reduced and thickened slightly. Pour into sterilised jars, seal and let cool.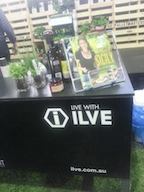 https://dominiquerizzo.com/wp-content/uploads/2015/09/Dom-tray-quiche-rsz.jpg
567
715
Dominique Rizzo
https://dominiquerizzo.com/wp-content/uploads/2014/09/Dominique-Rizzo-Pure-food-logo.png
Dominique Rizzo
2015-09-02 17:05:07
2016-06-13 13:09:12
Dominique's Top Recipes – Ekka 2015