Sausages were in the news at the Brisbane Ekka 2015! Long gone are the days when the choice was limited to beef and pork sausages. Now there is a sausage for just about every cuisine from German bratwurst, Spanish chorizo, French Andoulliette to Sicilian sausages. I love them all, but no surprises that I think Sicilian sausages are the best and that's a good reason to lift the lid and let you see what I'm cooking.
Take it easy and let the professional butchers like Michael Salm at Carindale, make the best of sausages for you, (seen here with Dom Melrose).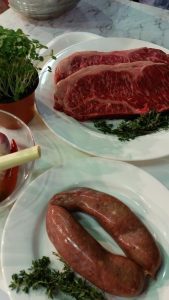 You can throw them on the barbeque or go for one pot cooking that's at its best with this tasty dish for sausages, cooked in a simple rich onion and tomato sauce. This was one of my favourite dishes growing up as my mother cooked it many nights as a simple and quick economic dinner option. The roast pumpkin and green pea smash is a great option instead of mash potato and makes a fantastic side for grilled chicken, or fish.
Sausages with roast pumpkin and pea smash and tomato and onion sauce
Serves: 4
Preparation time: 20 minutes
Cooking time: 20 minutes.
Ingredients sausage dish:
• 8 x good quality sausages – get these from a butcher who makes his own as they will be lighter in additives and fats or choose a lower fat sausage
• 2 brown onions, sliced
• 1 clove garlic, minced
• 2 x 400 g tins of diced tomatoes
• ½ teaspoon of dried mixed herbs
• 1 teaspoon of tomato paste
• 1 tablespoon Worcestershire Sauce*
• Salt and pepper
Ingredients: Pumpkin and pea smash
• 500g pumpkin, seeded and peeled
• 1 tablespoon butter
• 3 spring onions, (scallions) white and green part sliced thinly
• 2 cups frozen peas, defrosted
• Salt and pepper
Steps:
1. Preheat the oven to 200c
2. Cut the pumpkin into largish chunks about 4-5cm and spray or drizzle with a little oil, roast them for 20 minutes until golden and cooked through.
3. Heat a small saucepan and add in the butter, sweat off the spring onions for a couple of minutes then add the green peas and cook for 5 minutes, season with salt and pepper and with a fork partially mash the peas with the pumpkin.
4. For the sausages, heat a non-stick pan over a moderate temperature and brown the sausages on all sides, cooking them for about 10 minutes. Remove them from the pan and set aside.
5. Into the same pan add in the sliced onions and the garlic and sauté for 3-4 minutes. Add in the diced tomatoes and then fill one tin ½ way with water and swish out both tins adding this water to the pan. Add in the herbs, tomato paste, worcestershire sauce and simmer for 10 minutes.
6. Season with salt and pepper and add the sausages back into the pan, continue to simmer for another 15 minutes until the sauce has thickened. Turn off the heat and let the sausages sit in the sauce for a few minutes before serving with the mash.
Now for the real challenge – make your own sausages! This is my favourite Sicilian Uncle's recipe for making sausages from my cookbook "My Taste of Sicily".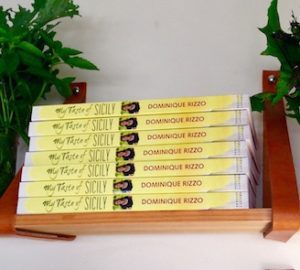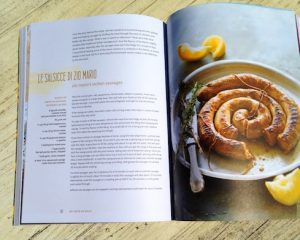 Le Salsicce Di Zio Mario
Zio Mario's Sicilian sausages
Makes: 40 sausages
Preparation time: 60 minutes
Cooking time: 30 minutes
Ingredients:
• 6 kg pork shoulder coarsely minced (ask your butcher to do this)
• 90 g sea salt
• ¼ cup (40 g) black peppercorns, cracked
• ¼ cup (40 g) fennel seeds
• ¼ cup (35 g) ground allspice of paprika
• 2 tablespoons mixed spice
• 1 large handful flat-leaf parsley leaves, chopped
• 1 bulb garlic, cloves chopped
• 10 m natural pork casings (order from your butcher)
Steps:
1. Place the minced port, salt, peppercorns, fennel seeds, allspice or paprika, mixed spice, parsley and garlic in a large deep bowl. Mix well with your hands so that all the spices are blended through. Cover with plastic film and refrigerate overnight so that the flavours have time to develop.
2. If the casings are salted, rinse them under cold running water, then keep in a bowl of water to ensure they stay moist.
3. To make it easier to fill the sausages, remove the meat from the fridge at least 30 minute beforehand to bring it to room temperature; this will prevent the filling from breaking the casings. To test the flavour of the filling, fry a small ball of it in a frying pan over medium heat, then adjust the seasoning accordingly.
4. If you have a mincer of sausage machine at home, using the tube attachment, carefully slide a piece of the casing on the tube. If you don't, you can use a piping bag to stuff the casings with the meat. A good tip is to fill the casing with about ¼ cup (60 ml) water; this will open the casings as you fill them. Start the machine on low until you get the hang of the pace and stuff the casing evenly with the pork mixture, taking care not to break the casing. Once you have a long sausage, you can either leave it as is and coil it around itself, securing with string (this is more traditional), or twist the casing around at intervals to make your desired sausage length. Repeat with the remaining casings and filling. Refrigerate the sausages for at least 30 minute before cooking.
5. For thick sausages, pan-fry or barbeque for 4-5 minutes on each side or until the sausage is slightly firm to touch, about 15 minutes in total (thin sausages will take about 10 minutes). Alternatively, roast the sausages in a roasting pan at 200 degrees C for 30 minutes or until golden and cooked through.
6. Leftover raw sausages can be wrapped in serving-sized portions and frozen for up to 3 months.
Making sausages is not difficult but maybe a bit messy, so you can refresh your hands using one of Putia's beautiful sea salt scrubs!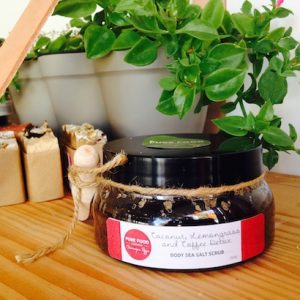 "My Taste of Sicily" cookbook and Sea salt scrubs are available on-line at
https://dominiquerizzo.com/product/my-taste-of-sicily-by-dominique-rizzo/ and
https://dominiquerizzo.com/wp-content/uploads/2015/09/1.-RSZ-Dom-with-sausage-men1.jpg
142
254
Dominique Rizzo
https://dominiquerizzo.com/wp-content/uploads/2014/09/Dominique-Rizzo-Pure-food-logo.png
Dominique Rizzo
2015-09-30 12:16:28
2015-09-30 12:16:28
A Fresh Take on Mouthwatering Sausages