Excellent planning and the right appliances are key in this Tuscan-inspired kitchen, designed by Lee Hardcastle of Enigma Kitchens for chef, author and presenter Dominique Rizzo.
At home with chef Dominique Rizzo gives an insight into how sustainable materials and practices are a key part of her home life.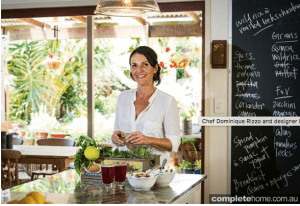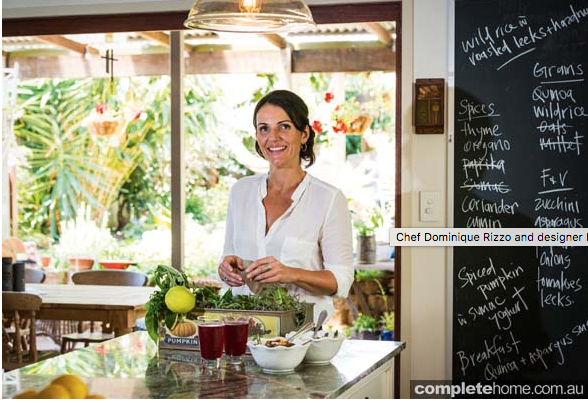 Alex: Dominique and Lee, can you give us a tour of this kitchen?
Dom: As a chef,I really wanted a kitchen that,  had everything at my fingertips and all I needed to do was turn around, bend over or stretch my arm to reach something. I don't like walking very far to have to put something away or grab a utensil. With Lee's assistance, we created a space that absolutely works perfectly for me. I can unpack the dishwasher without travelling far, being almost able to put everything away in arm's reach. Because my kitchen space is quite small and in essence I have no dining room, the kitchen had to really double as a dining table, so my centre bench works perfectly, really opening up the space.
Lee: I knew the available space was limited; therefore I simply had to make the most out of each section of Dom's kitchen. The design is compact yet not tight to work in. The overall theme ties in magnificently with Dom's heritage and busy lifestyle. The finishes are low maintenance and appealing. There's a sense of timelessness with the colour tones, features and natural stone.
Alex: What special features have been included?
Dom: Easy push-to-open doors, my three-way integrated recycling bins, (I have chickens, compost, general rubbish and recycling all in easy pull-out bins) – I love these! Large deep drawers were a must as I have all sorts of plates, equipment for my food styling and recipe testing. I am amazed that in my old kitchen everything was always on top of itself and now I still have drawers with room to spare.
Lee: The use of genuine Farmers doors and components really sets the theme for this kitchen. I carefully selected profiles and detailed elements that would enhance the kitchen without overpowering the style. Although seemingly unusual, the ultra-modern integrated V-ZUG appliances are a big feature, which work well even with this classic style. Blum Aventos lift systems make the overhead cabinet sections a joy to use, and can stay open while cooking.
Alex: Dominique, what's your favourite part of the design?
Dom: The benchtops are gorgeous and the space that I now have is amazing. I love that my ovens are all handy to use, with space to put trays or dishes when they come out of the oven. The colour of the cupboards has given the space so much light and has opened up the kitchen.
And Lee, what's yours?
Lee: I would agree with Dom, the benchtops are something she'll never get tired of; similarly, the Farmers exterior finish. I like the fact that even with the limited space, we've managed to fit so much into this design. There is a beautiful balance to the room with lower and upper sections combining well.
Alex: There's a really rustic country garden/provincial kitchen theme here. Was that your choice Dominique or something Enigma suggested?
Dom: I was overseas at the time and asked Lee to pick what he thought would work in the space, giving him a few details as to my specifications and the usage of the kitchen, also telling him what I wanted and what I wasn't happy with in my old kitchen. I actually left it up to him to make the decisions. We did a bit of back and forth with photos and colours but I really just said "go for it". I had seen kitchens that Lee had done and loved his work; also he loves to cook so I knew that he would have some great suggestions.
Lee: It was obvious that Dom's new kitchen had to have character, be robust, and have a certain charm that expressed her style of cooking and way of life. Her backyard told me everything I needed to know. There are rows of herbs and vegies strategically planted in raised beds, fruit trees scattered about and an open chicken coop in one corner ­- I simply felt like I was visiting a Tuscan villa. Dom's kitchen had to be an extension of her love for organic, natural flavours and ingredients.
Alex: Dominique, as a chef, a wonderful kitchen is clearly important to you. How do you make sure that your kitchen at home is as efficient as your one at work?
Dom: As I mentioned, for me I like everything to be at arm's reach, having to walk to get a pan, utensils and put things away all takes time and when you are working in a busy kitchen you don't have time to always look for things — my kitchen at home is a direct reflection of efficiency with everything at arm's reach. I have a place for everything and I love an organised kitchen so space is really important as well as organisation and efficiency. Also my kitchen is really easy to clean with clean lines, and beautiful surfaces. I have fantastic appliances – a combi-steamer, self-cleaning oven, induction cooktop and steam dishwasher — what more could a chef want at home?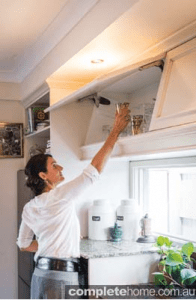 Alex: Is there a signature, much-loved dish you cook when you have guests?
Dom: I am forever inspired by the tours I escort to Italy and my cooking is inspired by the wonderful foods I eat while I am over there. I love using my combi-steamer to make a delicious baked fish and the Sicilian-inspired flavours of garlic, lemon, capers and fresh herbs of course blended with virgin olive oil. I serve this with roasted red tomatoes, and a delicious zucchini, mint and roquette salad with shaved pecorino cheese.
Alex: I find the kitchen is somewhere to unwind and enjoy being creative. What does the kitchen space mean to you both?
Dom: My kitchen space is my creative space, it's where I relax, I think, I come alive through food, it's the hub of my house and I love having people sitting at my main bench and chatting while I am cooking. I also can see to my beautiful garden from my kitchen and it feels like I am cooking outside.
Lee: A kitchen should always be a space that inspires and comforts us, not a space you can't wait to leave. It's all about cooking, entertaining and living. A good design will tell you a lot about the person who lives there and the rest of the home. To sit at a kitchen stool and feel unhurried, relaxed and at home, and to be continually excited over and over, day after day when working in your kitchen is a wonderful feeling. This is what I aim for throughout my design process.
Alex: Dominique, you place great emphasis on the importance of sustainable cooking. How do you make sure you cook in a sustainable way?
Dom: I recycle, I use my scraps for my chickens or compost, I have little or no wastage, using great appliances that are energy efficient helps that. Also I endeavour to use fresh non-packaged items when I can and love creating food that is sustainable, fresh, local and seasonal. It's a testament to my Italian heritage; I live like that naturally.
Alex: Is this something Enigma also places importance on, and what sustainable elements were introduced into the design of the kitchen?
Lee: The use of natural materials offers longevity and consideration for the environment. Superior design and construction methods also play a big part in sustainability; it means the kitchen won't need replacing for many years. Small details such as sink size and appliance selection are in fact important too, as this can reduce water and electricity consumption.
Alex: What message would you give to those who want to bring more sustainability into their homes as well as on to their plates?
Dom: Look at your appliances and the space to ensure that it works efficiently; saving you time, money and energy. As for the food, choose "one-food" items: this is food that is what it is with no added fake or man-made ingredients.
Lee: Make the most of natural lighting and ventilation by arranging your kitchen design thoughtfully. Limit the amount of pantry shelving, or at least make all the shelving accessible, as this will only fill up with an abundance of food that may be later thrown away if not consumed. Think about your desired daily style of cooking and purchase appliances that cater to this; not ones that will assist you for the once-a-year type of meals.
Alex: What's the top kitchen appliance you'd recommend home chefs invest in?
Dom: A combi-steamer oven, I have VZUG appliances and I cannot live without it [the combi-steamer]. It means I can steam and cook in the same appliance with a range of other key features that make cooking a breeze.
Lee: Agreed.
Alex: What advice can you both offer to home renovators looking to redo their kitchen? 
Dom: I would seek the advice of a kitchen designer and invest in a sturdy kitchen if you cook a lot. Look at storage carefully as it is something that I notice some kitchens lack and also make all your kitchen items easy to reach, find and store, it makes cooking a breeze and you will want to be in your kitchen.
Lee: Seeking a professional kitchen designer may initially seem to be an unnecessary expense but, if chosen well, this will prove to be an absolute blessing. A good designer will save you money and eliminate common mistakes. Consider how much you're willing to invest, and make the most of this. Make a list of likes and dislikes; put together a scrapbook of anything that excites you. Don't be pressured into signing a contract with a kitchen company unless you're totally thrilled with the design, service and quality being offered. Ensure your designer is giving you options and suggestions that show creativity and experience, and that you're convinced that the final design will offer the best possible outcome for your requirements.
Alex: Lee, what special tips can you give readers to make sure their kitchen renovation runs smoothly?
Lee: An experienced project manager is essential. He or she may be a cabinetmaker, a designer or an architect. This will make the process flow seamlessly and delete wasted time and costly errors.
This interview originally appeared in "Complete Home" at https://www.completehome.com.au/kitchens/at-home-with-dominique-rizzo-and-lee-hardcastle.html.
https://dominiquerizzo.com/wp-content/uploads/2016/12/Screen-Shot-2016-12-21-at-12.40.39-pm.png
403
588
Dominique Rizzo
https://dominiquerizzo.com/wp-content/uploads/2014/09/Dominique-Rizzo-Pure-food-logo.png
Dominique Rizzo
2016-12-21 13:49:25
2016-12-21 13:49:25
At home with chef Dominique Rizzo