What to do with a Bunch of Kale…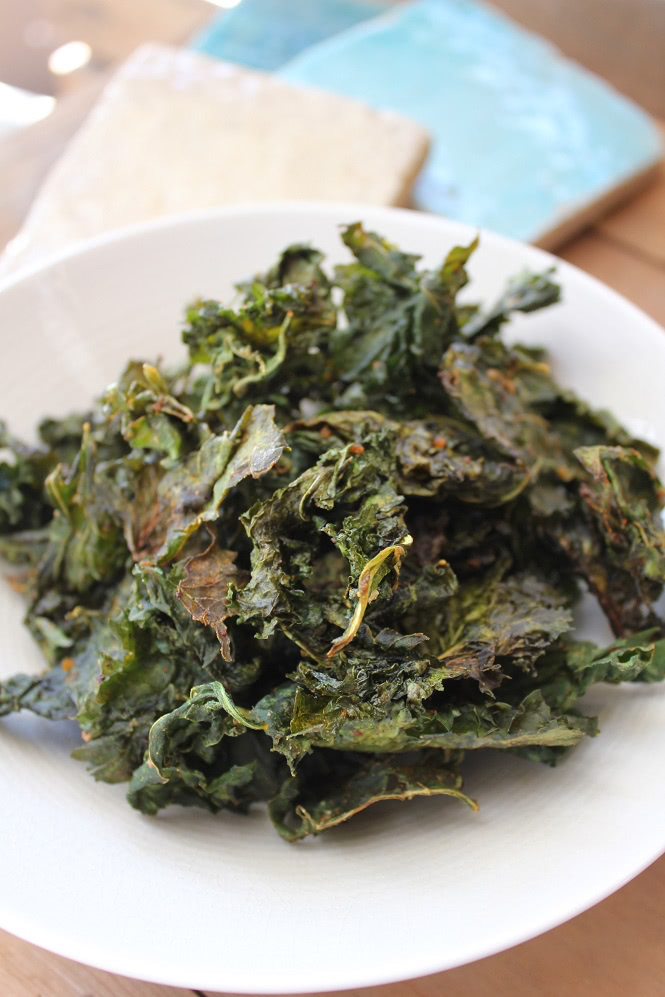 Kale has hearty leaves that withstand all types of cooking: boiling, braising, steaming, microwaving, and stir-frying. Kale can also be served raw but the texture may be difficult to chew. If you can grow Kale you will be saving $$ on your multivitamin bill.  Kale is very high in nutrients and very low in calories, making it one of the most nutrient-dense foods on the planet. Here are my favourite ways to enjoy Kale.
5 Recipes to Make Kale Taste Amazing
Boiled Kale: This is one of the simplest and most versatile ways of enjoying Kale, first rule when cooking Kale – Don't throw away the stalks! Chop up the stalks and add them to a saucepan of boiling water with a good pinch of salt. After about 4-5 minutes, add in the rest of the Kale, chopped up. Ensure its submerged in the water and allow to boil for a further 4 minutes. Drain the cooked Kale of its water – feel free to keep this water for stocks and soups. Squeeze most of the water from the Kale, add the Kale to a bowl and dress it with what ever flavour or dressing you like. Enjoy it cold, or reheat it as a side. You can also freeze the cooked Kale in a container or plastic bag for ;later use in soups, stir fry or in any of the recipes below.
Sautéed Kale: This is one of the simplest, quickest methods to enjoy kale. Add 2-3 tablespoons of olive oil to a saucepan on medium-high heat. Add 2 cloves of minced garlic and cook for 1-2 minutes until softened. Add ½ cup water or broth and 500 – 750g kale (washed, stems and leaves coarsely chopped). Cover the pan and allow to cook for 5 minutes until kale is softened and at desired texture. Season with herbs and spices as desired.
Kale & Basil Pesto
Kale & Basil Pesto: This recipe uses a vibrant green combination of fresh aromatic basil and tender Kale leaves to create this flavorsome Italian classic. Place into a food processor: 2 cups kale leaves (stems removed), 1 cup of picked basil leaves, ¼ cup extra virgin olive oil, and 2 cloves garlic or ¼ teaspoon garlic powder; pulse until smooth. Add ¼ cup toasted pinenuts/ almonds/walnuts or cashews, and pulse until blended. Add ½ cup Parmesan cheese and pulse again until blended. Serve pesto mixed into pasta or whole grains, as a sauce for chicken or fish, as a pizza sauce, or spread on crackers.
Kale Salad: If using in a salad, there are two methods to soften the leaves so they are easier to chew: 1) Place leaves in a bowl and drizzle with olive oil; massage the leaves for 1-2 minutes, or 2) Blanch leaves by placing in a pot of boiling water for 1 minute. Drain the leaves and place into a bowl filled with ice water to quickly stop the cooking. Place leaves in a colander and gently press out excess water. Use paper towels to blot dry as needed. Blanching can also help to remove some of the bitter flavor from kale. Use the blanched Kale leaves as a substitue for spinach or lettuce, Kale loves flavour so don't hold back on your salad additions.
Kale Chips: Preheat oven to 170 degrees c. Line a baking sheet with baking paper. Using your hands, pull leaves from their stems and rip the leaves into small pieces; or you may use kitchen scissors  to cut leaves from stem and into small pieces. Wash and dry the kale leaves using paper towels to dry most of its moisture if needed.  Place the kale into a large bowl and drizzle with oil. Sprinkle herbs or spices as desired (try curry, cumin, garlic powder, onion powder, smoked paprika, nutritional yeast, or chili powder). Massage oil and spices evenly into kale pieces. Spread in single layer on baking tray and bake until the leaves shrink and the edges turn slightly brown, about 15 minutes.
The Benefits of Kale
Kale is extremely high in vitamin C, an antioxidant that has many important roles in the body in fact a single cup of raw kale actually contains more vitamin C than an orange.  It is best eaten steamed as steamed or cooked Kale contains substances that bind bile acids and lower cholesterol levels in the body.   A single cup of kale contains 7 times the RDA for vitamin K – an important nutrient that is involved in blood clotting.  Kale is very high in beta-carotene, an antioxidant that the body can turn into vitamin A.  Many important minerals are found in kale, some of which are generally lacking in the modern diet. These include calcium, potassium and magnesium.
Why Should you be growing Kale? 
If you can grow Kale you will be saving $$ on your multivitamin bill. Not to mention giving yourself a boost of healthy greens for next to nothing in cost.   Kale is very high in nutrients and very low in calories, making it one of the most nutrient-dense foods on the planet.  Many powerful antioxidants are found in kale, which have numerous beneficial effects on health. 
Add kale leaves to soups, stews, and casseroles at the start of cooking.
Add a few handfuls of chopped kale into your burger mixture before cooking.
Use large hardy kale leaves as a wrap to replace bread or tortillas.
Add a handful of kale leaves to smoothies.
Use blanched Kale leaves instead of vine or cabbage leaves to wrap up seasoned rice and mince for dolmades or instead of stuffed cabbage leaves.
Use a mixture of Kale and Cavallo Nero in a spinach pie instead of baby, English spinach or silverbeet…
Grab my recipe for Wild Green Cheese Pie here
https://dominiquerizzo.com/wp-content/uploads/2022/10/IMG_3416-scaled.jpg
2560
1707
Dominique Rizzo
https://dominiquerizzo.com/wp-content/uploads/2014/09/Dominique-Rizzo-Pure-food-logo.png
Dominique Rizzo
2022-10-28 19:48:15
2022-10-28 20:14:43
What to do with a Bunch of Kale…