Beef Week 2018 with Chef Dominique Rizzo
Beef Week 2018 was that wonderful mix of recipe writing, prepping, cooking demonstrations, hosting special dinners and cooking with some of the best beef in Australia. It was also a week of working and laughing with an esteemed group of world class Celebrity Chefs.  From the demonstration "Butcher's Kitchen" where the butchers work alongside the chefs inspired to prepare interesting recipes, to the Chefs showcasing their talents with creative lunches and dinners in the Celebrity Chef restaurant, where there was an explosion of creativity showcasing traditional fine cuts of beef through to the lesser or "Tastier Cuts" and the rarely-heard-of cuts like the Bicep, Bavette, Tri tip, Flank, Coulotte and Flat Iron  popular in Europe, the USA and England. Hot topics of conversations were unique cooking techniques and flavour combinations, sustainability and working closely with producers, farm to table and keeping the message alive about Australia having the best beef in the world.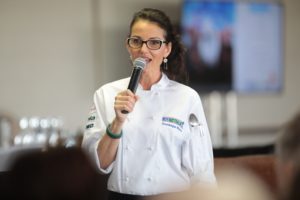 Experiencing Beef Week Australia 2018 in Rockhampton is a meat-lover's dream where the taste and quality of the meat reigns supreme across the board. It was a great experience to also meet some of the producers and to learn from them the intricate cuts that chefs and butchers alike are not so familiar with.  Each International Chef was paired with an Australian Chef to showcase how Tasty Cuts are incorporated into everyday meals as well as showcasing culinary masterpieces.
The choices on where and what to eat were endless, from the "Beef Australia Bar and Grill Restaurant" to the Beef Australia Smokehouse – presented by "Black Bunny",  the food kiosks in "The Paddock" and the number of independent outlets all showcasing the best of Australian beef and the various ways in which to cook, flavour and enjoy it.
One of the personal highlights of this year's event for Chef Dominique Rizzo was seeing how much the esteemed Iron Chef Sakai enjoyed her signature " Veal Carpaccio" dish, also cooking alongside Chef Jack Stein and meeting some of the world best Australian Beef ambassadors in one of Australia's leading beef events. Meanwhile on a professional basis, the opportunity to cook,  talk and share ideas with Australia's top celebrity chefs, is the inspiration behind many of the new dishes on the Putia Pure Food Kitchen's seasonal menu.  Dominique was so impressed by the brisket and the cuts of beef under the brand "Oino Gustus" by Blair Angus, she now proudly uses this on the Putia menu. Showcasing the point end of the brisket, Putias' Slow Roast Brisket with green pea smash, potato and three cheese hash, gravy, fried egg and topped with wicked crispy onions is such a show-stopper that it sells out in a flash.
And in the name of rich, hearty Winter comfort food, Putia has also included dishes such as super-tender beef cheek pie and Italian slow braised beef ragu with fresh tagliatelle pasta and in Clapham Junction Wine Bar, the New York style bicep beef dish is a knock-out.
Putia Pure Food Kitchen sources its top quality beef from North Queensland producer Signature Beef. Signature Beef is the culmination of four generations of the Angus Family's continual dedication to produce the world's best beef. With a surname steeped in beef history it was, in a way, inevitable that this proud tradition was passed down through their family. Signature Beef owned by Blair and Josie Angus and their four children, is a company strong on tradition yet constantly looking forward with a culture of innovation.
To get a feel for  the action and atmosphere at Australia's National Beef Expo by listening to the  Beef Australia 2018 Podcasts – this one features Jayne Cuddihy speaking to Shane Bailey – Celebrity Chef Coordinator, Jess Pryles – Cook, Author and 'Hardcore Carnivore' and Dominique Rizzo Chef Putia Pure Food Kitchen.
Since a large part of the program at Beef Week Australia is dedicated to a paddock to plate experience, they talk about food vans, pop up restaurants and the Celebrity Chef program that is dedicated to not just treating people to a beefy taste sensation, but educating people on cooking techniques and cuts of meat.
Click on the Listen Here to catch some of the action of Beef 2018.
At the end of Beef Week, we  look back and marvel at the hectic pace visiting farms, sharing stories, meeting incredible food pioneers and passionate producers and look ahead to Beef Week 2021 in three years time.  We loved Beef Week Australia.
https://dominiquerizzo.com/wp-content/uploads/2018/06/Dom-smiling-e1530077884900.jpg
2048
1365
Dominique Rizzo
https://dominiquerizzo.com/wp-content/uploads/2014/09/Dominique-Rizzo-Pure-food-logo.png
Dominique Rizzo
2018-07-19 09:56:50
2018-07-19 10:22:07
Beef Week 2018 with Chef Dominique Rizzo