Bread plus …… for Breakfast
The Grain family includes oats, wheat, bread, pasta, whole-wheat biscuits, rice, barley, corn,polenta, buckwheat, spelt, millet, sorghum, triticale, rye, quinoa and semolina.
Bread is a great source of carbohydrate giving you energy and it is best eaten for breakfast and lunch. The best breads to choose are wholemeal, wholegrain, rye, pita, lavosh, crisp breads, English muffin, crumpet, rice cakes, seeded breads, sprouted breads, sour dough, organic whole grain breads. Always read the label of ingredients and buy the bread with all natural ingredients.
The recommended amount is 4-6 serves a day.
1 serve is:
1 slice (40g) bread
½ medium (40g) roll or flat bread
3 (35g) crisp breads
1 (60g) crumpet
1 small (35g) English muffin or scone
The nutrients provided by whole grain breads and natural grains include carbohydrates/starch which gets converted to energy, protein, fibre and a wide range of vitamins and minerals which can reduce the risk of developing certain diseases including coronary heart disease, diabetes and can also assist in the maintenance of the digestive system preventing colon cancer.
High fibre foods, such as wholegrain breads and cereals, can also be an effective part of any weight loss program as they take longer to digest and create a feeling of fullness, which discourages overeating.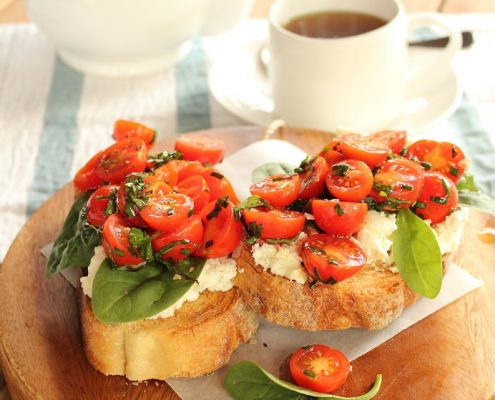 Spinach, tomato and herb ricotta toasts
Serves 2
Prep time 10 minutes
Cooking time: 3 minutes
Ingredients:
200g cherry tomatoes
2 tsps. virgin olive oil
2 tsps. balsamic vinegar
Cracked pepper and salt
½ cup ricotta cheese ( from the deli)
2 tablespoons chopped fresh basil
2 tablespoons chopped fresh chives
Cracked pepper and salt
1 tsp. lemon zest
4 sliced of whole grain bread
2 cups spinach leaves
Recipe Steps:
Slice the cherry tomatoes in half and toss with the olive oil, balsamic and salt and pepper.
In a bowl smash the ricotta with the chopped herbs and the lemon zest.
Toast the bread and spread on the ricotta cheese, top with the spinach and then the tomatoes. Serve.
Bread plus – other ideas
Cinnamon: Honey (1 tablespoon) and good sprinkle of cinnamon with ricotta Substitute the tomatoes and the spinach with 1 sliced apple or 1 sliced pear, fresh or grilled giving ½ a piece of fruit per person.
Bananas: Spray a hot non-stick frypan with oil and cook 1 sliced banana for 1 minute until golden, set aside, cook 6 trimmed rashes of bacon and whisk 1 egg with ¼ cup of milk. Dip 2 pieces of bread into the mix until coated with egg mixture and cook the bread in the same pan for 1 minute on each side until golden and serve with the banana and 1 tablespoon of maple syrup – serves 2.
Berries: ½ cup of berries – fresh or frozen cooked with 1 tablespoon of maple syrup
Avocado and cherry tomatoes: Top two slices of toast each with 1 ½ tablespoons of ricotta or cottage cheese, ¼ a diced avocado, 5 cherry tomatoes, cut in half and chopped chives, season with salt and pepper and a squeeze of lemon.
Sicilian style – brioche buns with granita.
https://dominiquerizzo.com/wp-content/uploads/2015/07/Bread-with-ricotta_cherry-tomatoes-rsz.jpg
1037
692
Dominique Rizzo
https://dominiquerizzo.com/wp-content/uploads/2014/09/Dominique-Rizzo-Pure-food-logo.png
Dominique Rizzo
2015-07-27 13:45:08
2018-02-27 13:33:57
Bread plus …… for Breakfast