Cannelloni Piacenza Style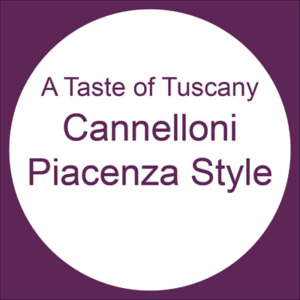 Cannelloni Piacenza Style
Serves 4
Crispelle are "crepes" in a word and are delicious in this lighter style cannelloni. The ricotta cooks almost like a soufflé and is light fluffy and delicious. If you want to cut out some of the fat content, you can halve the butter and leave out the mascarpone. Add other herbs if you like and you can also make this a dessert by adding a little icing sugar to the ricotta to taste and instead of sprinkling it with parmesan cheese you can use cream, chopped chocolate and nuts or berries. This makes a fabulous alternative to a pasta base dish and for those of you gluten free, simply make the crepes with gluten free flour.
For the crispelle:
1 ¾ all-purpose flour
2 eggs, beaten
2 egg yolks
¼ cup butter, melted
1 ¼ cups milk, approximately
Good pinch salt
Pinch nutmeg
Filling:
1kg firm fresh ricotta
¼ cup chopped fresh parsley
1 cup Parmigianino cheese
¼ cup mascarpone cheese
4 egg yolks
1 whole egg
Salt and pepper
4 tblsp butter, softened
Freshly grated nutmeg
Extra butter for greasing and garnish and extra grated parmesan
Preheat the oven to 200c.
Combine the flour with the salt, eggs, milk, nutmeg and melted butter, whisk for 20 minutes until a smooth batter, this needs to reasonably thin, just so it coats the back of a spoon. So if you leave it and it thickens up just add in a little more milk. Heat 1 tablespoon of the butter in a non-stick pan and fry off the crispelle, keep warm covered while you finish the rest of the mixture. Trim the fritters to a rectangle shape and set aside.
For the filling combine the ricotta with the parsley, egg yolks, whole egg, butter, nutmeg, mascarpone and seasoning. Place spoonful's of the filling onto a crepe and roll up. Cut the crepe in half and place with the ricotta facing up into a well-buttered baking dish. Continue with all the mixture, until the crispelle are finished. Garnish with a little more melted butter and sprinkled with Parmesan. Bake in a preheated oven of 200c for 20 minutes.
https://dominiquerizzo.com/wp-content/uploads/2015/05/putia-cropped-1.jpg
517
895
Dominique Rizzo
https://dominiquerizzo.com/wp-content/uploads/2014/09/Dominique-Rizzo-Pure-food-logo.png
Dominique Rizzo
2014-03-18 02:58:11
2014-03-18 02:58:11
Cannelloni Piacenza Style