New Zealand is not a country that's necessarily known for its cuisine, in part because there's so much else to like about it. More than anything else, it's known for its sensational beauty, featuring striking coastline and otherworldly landscapes that have only been made all the more alluring by their association with the fictional land of "Middle Earth" from the film adaptations of JRR Tolkien's "Lord Of The Rings" fantasy. Given the natural beauty of the country, however, and all of the interesting culture to be found there, it can also be a surprisingly appealing destination for foodies. Like most countries, really, if you know where to go, you're in for some excellent meals as you explore New Zealand.
We're highlighting four cities to explore if you're ever headed to this beautiful country and concerned with the food options.
Wellington


One of what we might call the three or four "main" cities of New Zealand, or at least the biggest – and the capital, in fact – Wellington is a place you may well wind up seeing in the course of your travels anyway. And it happens to be by some estimations the very best place on the multi-island nation for food. National Geographic, in fact, included Wellington on a list of just six locations in the entire world it dubbed as being an "unexpected" destination for a food lover. As part of that listing, Nat Geo highlighted the neighbourhood around Cuba Street as having some of the best restaurants in town, and also noted various places for "beach eats" and even some markets for street food and snacks with which you can assemble your own meal. A few restaurants we'd join them in highlighting include Logan Brown, a contemporary restaurant in a converted bank; Olive, a high-end Mediterranean establishment; and Maranui Café, a seaside spot with light, modern fare and fresh seafood.
Hamilton

Hamilton is another place you may pass through on your travels fairly naturally, not because it's a particularly huge city or one packed with attractions, but because of its close proximity to Rotorua, which is a very popular place for tourists. The town is perhaps best known for its gardens celebrating multiple influences from different cultural groups and histories. But don't sleep on the dining scene here. Palate is one of the most respected restaurants in the country, perched atop the Waikato River and offering fabulous modern cuisine, with menu items including fresh fish and oysters, venison, grilled quail, and all manner of other tasty delights. Chim Choo Ree offers another refined, modern menu, though in a slightly more casual atmosphere (and with a renowned five-course tasting menu option). And you'll also find delightful gastropubs (such as Foundation Bar Kitchen Lounge) and some of the country's better Asian-inspired cuisine (at Three Leg Frog).
Auckland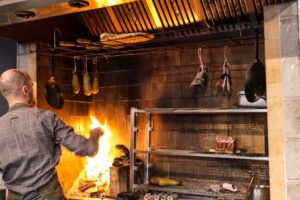 Auckland is the biggest city in New Zealand, and thus shouldn't be a surprising inclusion here. There are all kinds of incredible restaurants of all shapes and sizes around the city, from authentic Japanese establishments (Masu and Cocoro) to modern fine dining (Cazador or the Depot oyster bar), to wholly unique options like the 10-course dining experience at Pasture. Also not to be forgotten are the Sky Tower and SKYCITY casino facility in town. Though the word "casino" casts a certain light over a place like this, the gaming options don't always take centre stage, particularly as they become eclipsed by other, better options online. PokieSource gives us some idea that not just in general but specifically in New Zealand, many of the best gaming options from casino facilities are now accessible electronically, rendering the real-life facilities less necessary. As a direct result, however, other aspects of these facilities have been highlighted more, and those include dining options. Orbit 360 Dining in Sky Tower may be the most striking restaurant in town, and The Grill by Sean Connolly is one of the country's most elegant and impressive steakhouses.
Nelson


Nelson is a somewhat smaller city on New Zealand's South Island, but one that some visitors pass through en route to some of the country's vaunted wine regions. Accordingly, it's built up something of a reputation for culinary delights as well, having featured numerous times on Honey Travel's list of features that make the South Island a foodie's dream. In keeping with a theme you may have noticed, there's no shortage of fresh seafood or oyster bars in Nelson, and both can be among your very best options. However, there are also some more unique eateries to try out in this city. The Kitchen has become trendy among those who gravitate toward whole, natural, healthy ingredients; the place just radiates freshness through simple sandwiches, juices and smoothies, and its own coffee. And there are also some almost inexplicably special establishments such as Hopgoods, known for everything from its brick patio seating to its lamb and filet options, to its sensational dessert menu. Really, there's a bit of everything in Nelson if you care to look about!
From New Zealand, it's just a short jump to Norfolk Island and Lord Howe Island, where the sustainable food scene is amazing and not to be missed.
https://dominiquerizzo.com/wp-content/uploads/2019/03/Palate_1.jpg
664
1000
Dominique Rizzo
https://dominiquerizzo.com/wp-content/uploads/2014/09/Dominique-Rizzo-Pure-food-logo.png
Dominique Rizzo
2019-03-06 17:17:59
2019-03-06 17:19:39
4 Cities For Foodies In New Zealand