Looking for a Food Adventure to Puglia?
Join my Food, Wine Cooking and Culture Tours to Puglia.
Book Now Pay Later! Payment plans available. 
Bespoke small group tours.
Puglia, known for its rich culinary heritage, offers a variety of traditional dishes that highlight the region's fresh ingredients and traditional cooking techniques. Here are some popular traditional dishes in Puglia:
1. Orecchiette
(Most Famous Puglia Food to Try)
This delicious and traditional pasta is one of the most popular foods in Puglia and is probably the region's most famous dish. A small pasta made simply of durum wheat flour and water and is moulded by hand into a distinctive 'ear' shape which gives it its name ("orecchio", the word for "ear" in Italian).
The history of orecchiette goes back centuries and the dish has been an important part of Puglian cuisine for generations.
In the narrow alleyways of Bari's old town (Bari Vecchia), you can watch women making orecchiette by hand on wooden tables – it's one of the most iconic things to see in the city.
Orecchiette is usually served with a simple sauce and vegetables, though there are many variations. You can find orecchiette on the menu of most restaurants in Puglia.
One of Puglias most popular and noted variations of this pasta is Orecchiette con le Cime di Rapa:  This dish combines orecchiette pasta with cime di rapa, also known as broccoli rabe. The sauce is made from sautéed broccoli rabe, garlic, chili flakes, and lots of olive oil. It's a classic and beloved Puglian dish.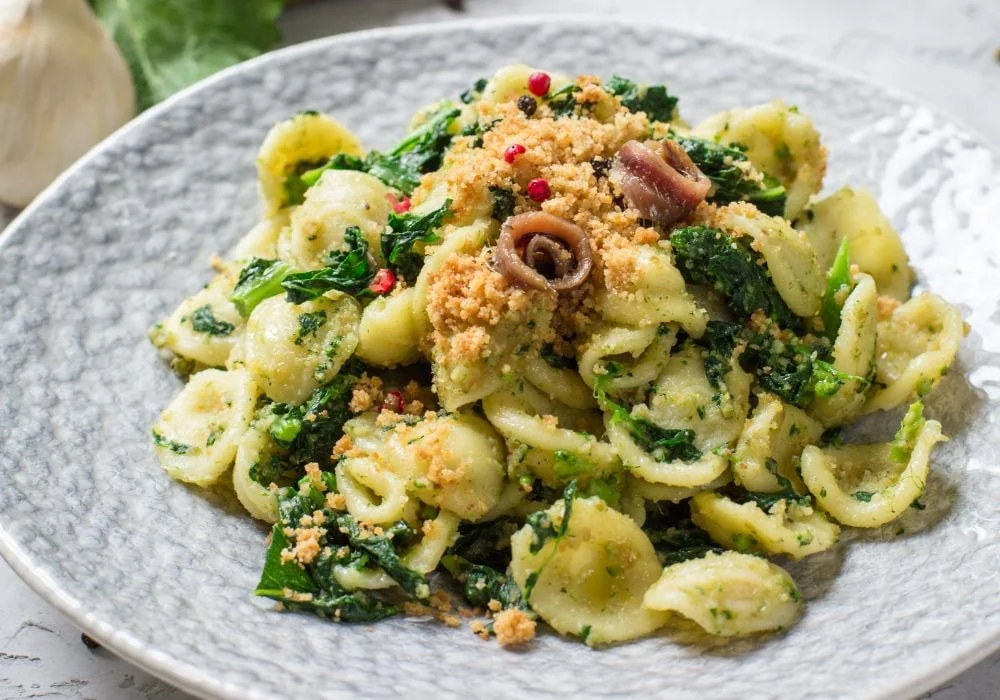 2. Polpette di Ricotta
These delicious cheese and herb balls are typical Puglian snacks. They're made from stale bread, ricotta, garlic, parsley, and grated parmesan, and are deep-fried until they're golden brown.
Polpette di ricotta is usually served as an antipasto or starter but can also be enjoyed on its own. Good ones aren't too heavy but are incredibly flavorful.
As well as the ricotta variety, polpette comes in various other forms, including ones containing meat, vegetables, and/or fish. Sometimes they're served by themselves, or other times in a rich sauce, where they take on the consistency of dumplings.
Polpette can be found on menus throughout Puglia. 
3. Focaccia Barese
This traditional Puglian bread originally comes from the city of Bari and is usually served as an appetizer, paired excellently with local olive oil. It's made of a simple dough that's seasoned generously with rosemary and salt, then topped with tomatoes, onions, and olives.
The result is incredible. Good focaccia barese is rich yet light, crispy on the outside, fluffy on the inside, and never too oily. 
4. Taralli
Taralli comes in many shapes, sizes, and flavors, but the traditional variety from Puglia is typically made with flour, white wine, olive oil, and salt.
They're crunchy rings of dough that have been boiled before baking – this gives them an extra special texture which makes them really addictive!
Traditionally they are not spiced or flavoured but now you can find them with all sorts of additional flavours such as  either chili or fennel seeds, rosemary and even sweet combinations. They pair perfectly with wine or an ice-cold beer.
Taralli is a great snack to enjoy while you're out exploring or during a picnic lunch. 
You can buy bags of taralli in virtually every shop and supermarket in Puglia for a couple of euros, and many bars and restaurants will serve them as a snack to enjoy with an aperitivo. 
5. Burrata
No trip to Puglia would be complete without trying burrata, a type of cheese made with mozzarella and cream. It's one of the most popular foods in the region and you'll find it on many restaurant menus.
Burrata is creamy and delicious – perfect for spreading onto salty focaccia or pairing with tomatoes and basil as an appetizer. Traditionally it was made using buffalo milk, but cows' milk is used more often now. I've tasted both types and, honestly, they're equally as tasty!
6. Tiella
One of the most traditional dishes in Puglia, Tiella di Cozze, Patate e Riso.  Tiella is a layered casserole dish that combines mussels, potatoes, and rice. The dish is assembled by layering the ingredients with a mixture of tomatoes, onions, parsley, and olive oil. It is then baked to create a flavorful and hearty seafood dish. It's usually cooked in a terracotta pan over an open fire which gives it an incredible, subtly smoky flavor.
Even if you don't like mussels, you can still enjoy other varieties of this amazing dish. A popular vegetarian variety is made with eggplant and zucchini.
The combination of ingredients in tiella makes it a hearty meal that's perfect for any occasion. It's often served with some crusty bread and accompanied by a glass of white wine.
7. Fave e Cicoria
Fave e cicorie is a popular peasant dish in Puglia. It consists of fava beans, which are cooked until creamy with garlic and olive oil, and served with sautéed chicory greens. The combination of the creamy fava beans and the slightly bitter greens creates a delicious and nutritious dish.  This simple combination of ingredients creates a hearty soup that's full of flavor and nutrition.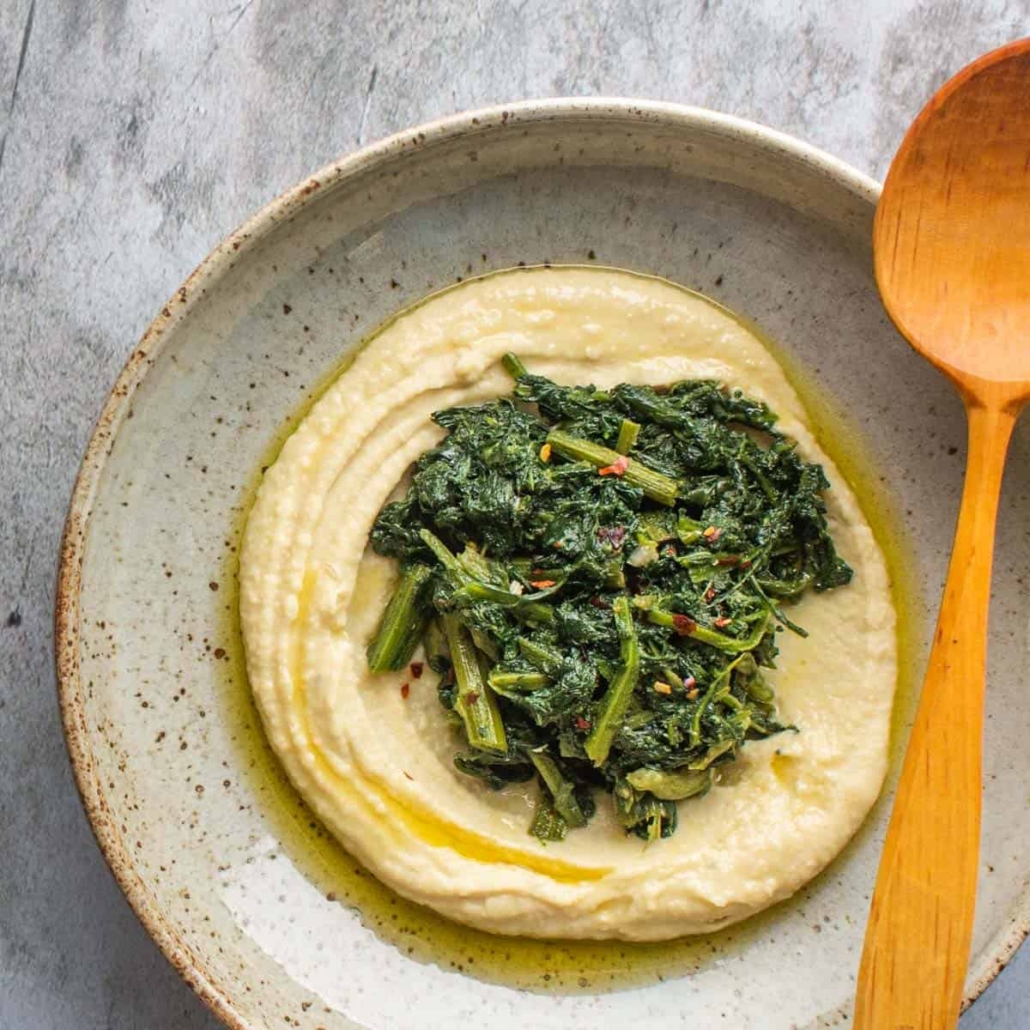 8.Panzerotti
Panzerotti are fried turnovers similar to calzones. They are made by folding and sealing small circles of dough filled with ingredients such as tomato sauce, mozzarella cheese, and sometimes other fillings like ham or mushrooms. They are then deep-fried until golden and crispy. Panzerotti are a popular street food in Puglia and can be found in many bakeries and pizzerias.
9. Cartellate
Cartellate are traditional Puglian pastries made during the holiday season. Made from flour, white wine, olive oil, and sugar, and are pressed into shapes like small stars or flowers.
The unique shapes are made by rolling out strips of dough, which are then twisted into various shapes and fried until golden.  The cartellate are then soaked in warm honey or vincotto (cooked wine syrup) and sprinkled with ground cinnamon or powdered sugar. The sweetness of the pastry combined with the sticky honey is truly divine. They make the perfect ending to a typical meal in Puglia.
These fried pastries are usually served as a dessert and are traditionally eaten during the festive winter period, although you can find them in bakeries throughout the year.
10. Puccia
Puccia is a type of bread roll that is popular in Puglia, especially in the Salento area. It is typically made from a simple dough of flour, water, yeast, and salt. Puccia is baked until golden and then sliced open to be filled with various ingredients such as cured meats, cheeses, vegetables, and sauces. It's a delicious and satisfying street food option.
11.  Fritto Misto
This delicious dish combines a selection of seafood and/or vegetables, which are lightly coated in flour and fried. Think of it as a bit like Puglian tempura.
Fritto misto is usually just served with lemon juice and salt, although some places offer other sauces on the side too. It's one of the most popular dishes in Puglia and can be found on many restaurant menus, as well as from food trucks and outdoor stands in most major cities.
As a cheap and quick meal on the go, fritto misto is hard to beat. 
12. Gelato
I know you can get gelato everywhere when you're traveling around Italy, but the gelato in Puglia is some of the very best. It's creamy, smooth, and incredibly rich.
Delicious at any time of day (or night), a scoop or two of high-quality gelato is one of the best things to enjoy after a typical meal in Puglia.
13. Pettole
These are essentially Puglian donuts, and they're a real treat! They're small balls of dough that have been deep-fried and are usually served with various sauces or sprinkled with sugar.
You can get sweet pettole and savory pettole, and some are even savory-sweet. Any way you have them, they're incredibly moreish – it's almost impossible to just eat one!
The savory ones tend to be served as appetizers (sometimes stuffed with cheese or mushrooms), whereas the sweet ones make great desserts (especially if they've been dipped in honey).
Pettole can also be found in bakeries and street food stalls throughout Puglia, and also feature on many restaurant menus in various forms. In Bari, they're known locally as popizze but are otherwise the same.
14. Melanzane Ripiene
A famous dish of Puglia, this is essentially an eggplant stuffed with a meat mixture (though you can also get veggie versions), tomatoes, and herbs. The resulting flavor is simply delicious – the sweetness of the eggplant combines with the salty flavors of the filling to make something truly mouthwatering.
Melanzane ripiene is usually served as a main course and is perfect with some crusty bread and a glass or two of red wine. 
15. Panzerotti
Another famous dish in Puglia is panzerotti. These are small parcels of pizza dough with a pocket of filling – a bit like mini calzones. They're usually deep-fried and served warm, so they make the perfect quick lunch or snack on the go.
There are all kinds of fillings available, from cheese and tomato to spinach and ricotta, but my favorite has to be the traditional version with mozzarella and tomato.
A Panzerotti filled with cheese, salami and stew leek.
You won't struggle to find these tasty treats across Puglia, so be sure to give them a try when you're there. In Bari's Old Town, Bakery Santa Rita serves particularly good ones.
16. Pasticciotti
Pasticciotti is a traditional Puglian pastry that's made with a sweet crust and filled with custard. It's usually served at room temperature, but can also be heated and served with cream or gelato.
They make a great snack or dessert and can be found in pretty much any bakery or cafe throughout the region.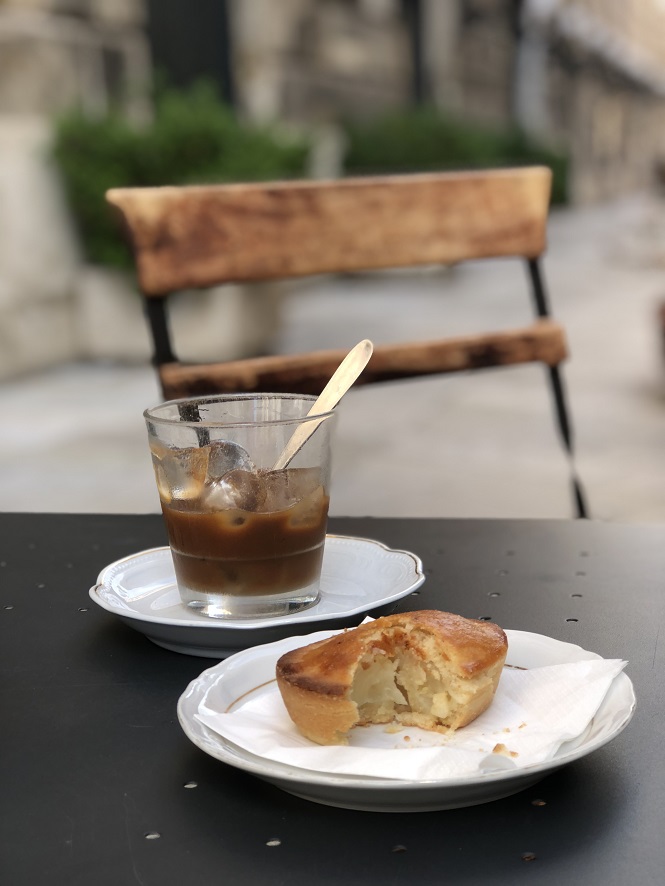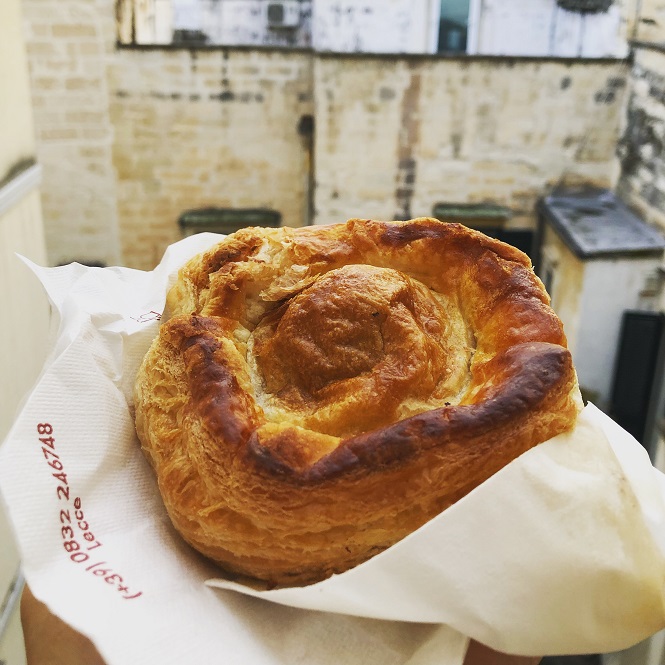 https://dominiquerizzo.com/wp-content/uploads/2023/06/IMG_6365-960x1280-1.jpg
1280
960
Dominique Rizzo
https://dominiquerizzo.com/wp-content/uploads/2014/09/Dominique-Rizzo-Pure-food-logo.png
Dominique Rizzo
2023-06-27 19:22:19
2023-06-27 19:53:02
The 15 Must Try Traditional Dishes From Puglia