Savouring Sicily
A Tour for The Senses
Immerse yourself into the Sicilian culture, gastronomy and people.
ABOUT Savouring Sicily Tours
My most popular tours are those to the island of Sicily. This is the place of my heritage, therefore I have a deep connection and passion for the island bringing to you a Sicilian gastronomic experience like no other.
Sicily is often referred to as "God's Kitchen" with a rich culture and a hugely celebrated cuisine. This makes it one of Italy's most sought after holiday destinations. Sicily is renowned for its traditional slow food, award-winning unique wines, a passion for real rustic, simple cooking, and it's deep entwined culture.
My Sicilian Tours embrace the heart and soul of Sicilian food and life.   In all my Sicilian tours we enjoy hands-on cooking classes, taste the region's best wines and feast on delicious regional flavours.  Sicilian cuisine is well known for being diverse with a richness of different tastes on offer in each region and I make sure we taste them all.
At the heart of Sicily's cuisine, is rustic, simply cooked food, bold flavours and an enormous amount of variety. Regional Sicilian cooking centers around the best fresh and slow food ingredients.  Most of all, locally sourced, grown and produced. This means recipes are often handed down through families or are local favourite.  My Sicilian Food Tours are a great way to experience real Sicilian cuisine spanning from local street food to some of the best restaurants.
You will visit the most popular cities in Sicily, see some of the most noted UNESCO world heritage sites, sail on the turquoise waters of the Ionian and Mediterranean seas and be led by some of the most passionate and experienced guides.  In addition, you will also have the chance to enjoy your own cultural exploration, with free time to just relax and take in the essence that is this interesting and delicious island.
Cooking classes including Pizza, traditional Sicilian bread and Pasta making 
Cheese and  Wine tasting
Street Food and Market Tastings Sicilian Pupi concert, Olive oil Tastings
 Olive Oil Tasting / Black Pig salumi experience …and much more
GUIDED WALKING TOURS & UNESCO WORLD HERITAGE SITES
Palermo / Catania / Taormina / Erice / Monreale and the Duomo/ Syracuse and Ortigia / Cefalu       
UNESCO listed Norman monuments, city center in Palermo , mosaics of Villa Romana del Casale
UNESCO listed archaeological park and theatre of Syracuse and old Ortigia
UNESCO listed baroque monuments of Val di Noto and Valley of the Temples
Fully escorted tour, in the beautiful scenic surrounds of Sicily.
Specialised escorted service of Chef Dominique Rizzo, Director and Curator of Pure Food, Wine Culture Tours
Private Italian Guides 
Arrival and departure transfers on the tour start and finish dates
Air-conditioned private bus and transport with our own private driver
4 and 5 star Hotels, Spa Resorts and Country style  accommodation selected for their personalised service, amenities, locations and hospitality (Room upgrades are available upon request, prices to be quoted upon application)
All Private, escorted visits and tastings
Full breakfast every day, lunch and dinners as per the itinerary,  some morning and afternoon teas and aperitives are provided as stated– where lunches/dinners are not provided, the listed multi course meals are of ample abundance including a combination of fine dining, long lunches and street food.
Beverages – All beverages with meals including wine, beer, juice, soft drink, tea and coffee are provided
All guided tours and admissions to all hostorical sites as specified / All transfers by boat, bus, car, taxi as specified
Airfares to and from Sicily
Everything not included in itinerary
General expenses – phone calls, laundry, room upgrades
Transfers outside of the tour dates, personal transport outside the tour dates, excess baggage, security and government taxes outside the tour dates, travel and medical insurance.
Beverages and meals outside of described "Tour Inclusions"
Room service beverages and meals when not participating in the scheduled meals
Tourist Taxes where applicable in hotels
Travel Insurance (Compulsory)
2024 Savouring Sicily Tour
Travelling to: Catania,  Caltagirone, Taormina,  Syracuse, Ortigia, Marzamemi,  Modica, Ragusa, Valley of The Temples, Erice, Trapani, Marsala, Scopello, Monreale, Palermo, Cefalù
Savouring Sicily - A Tour For the Senses
19th Sept - 2nd October 2024
14 Days - Only 2 places left
$9950.00per person (double/twin room)
$1300 single supplement
Small Group 14 - 16 People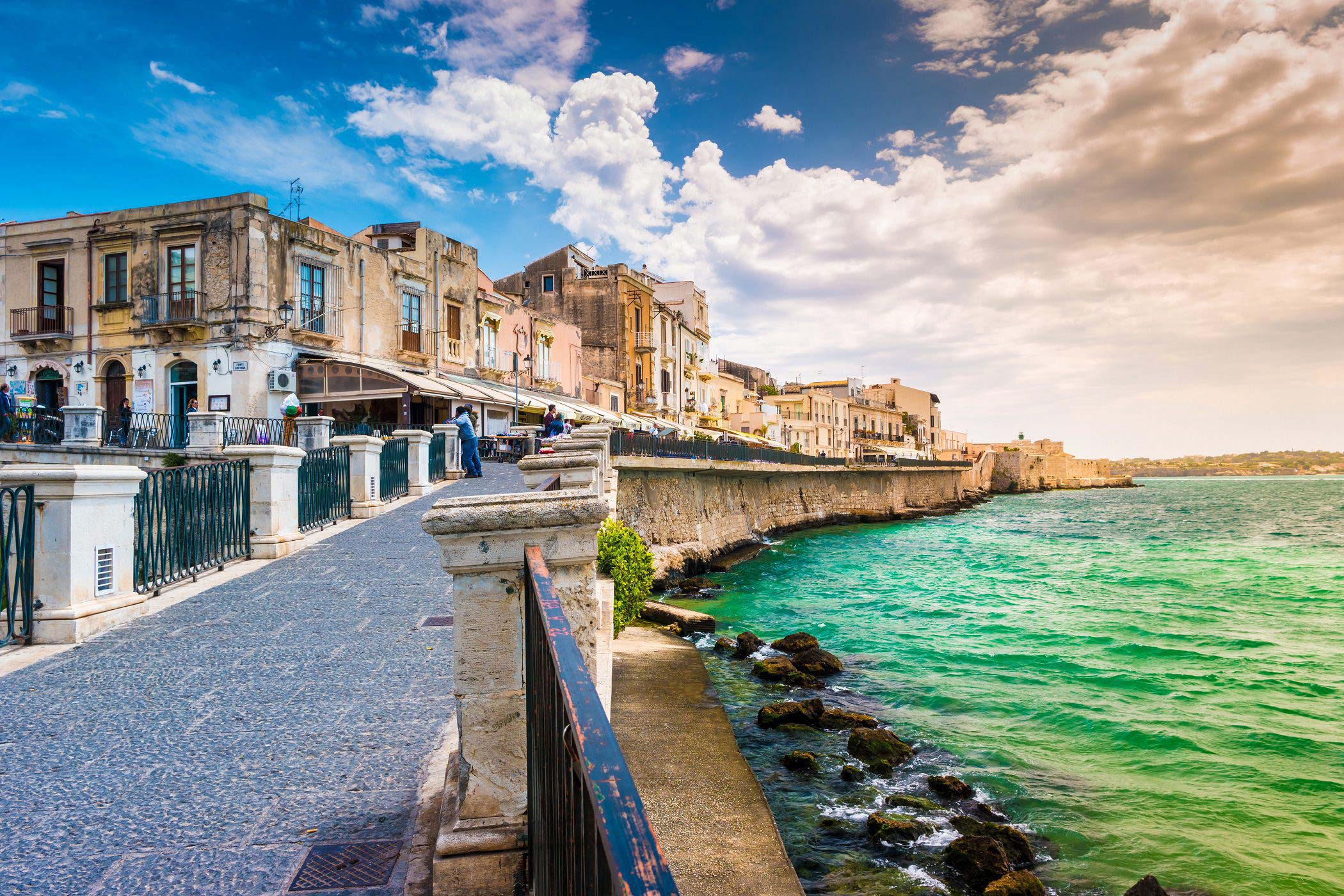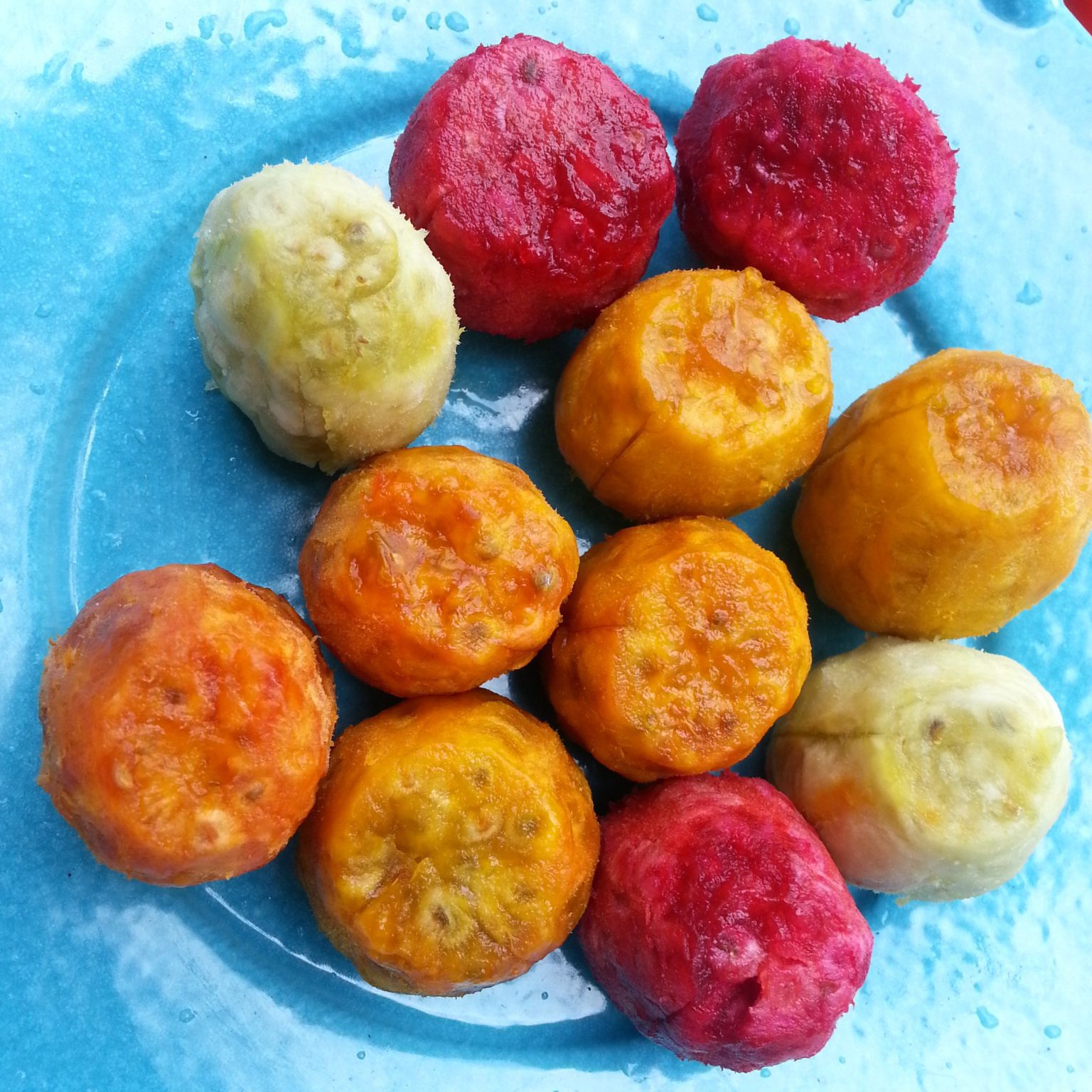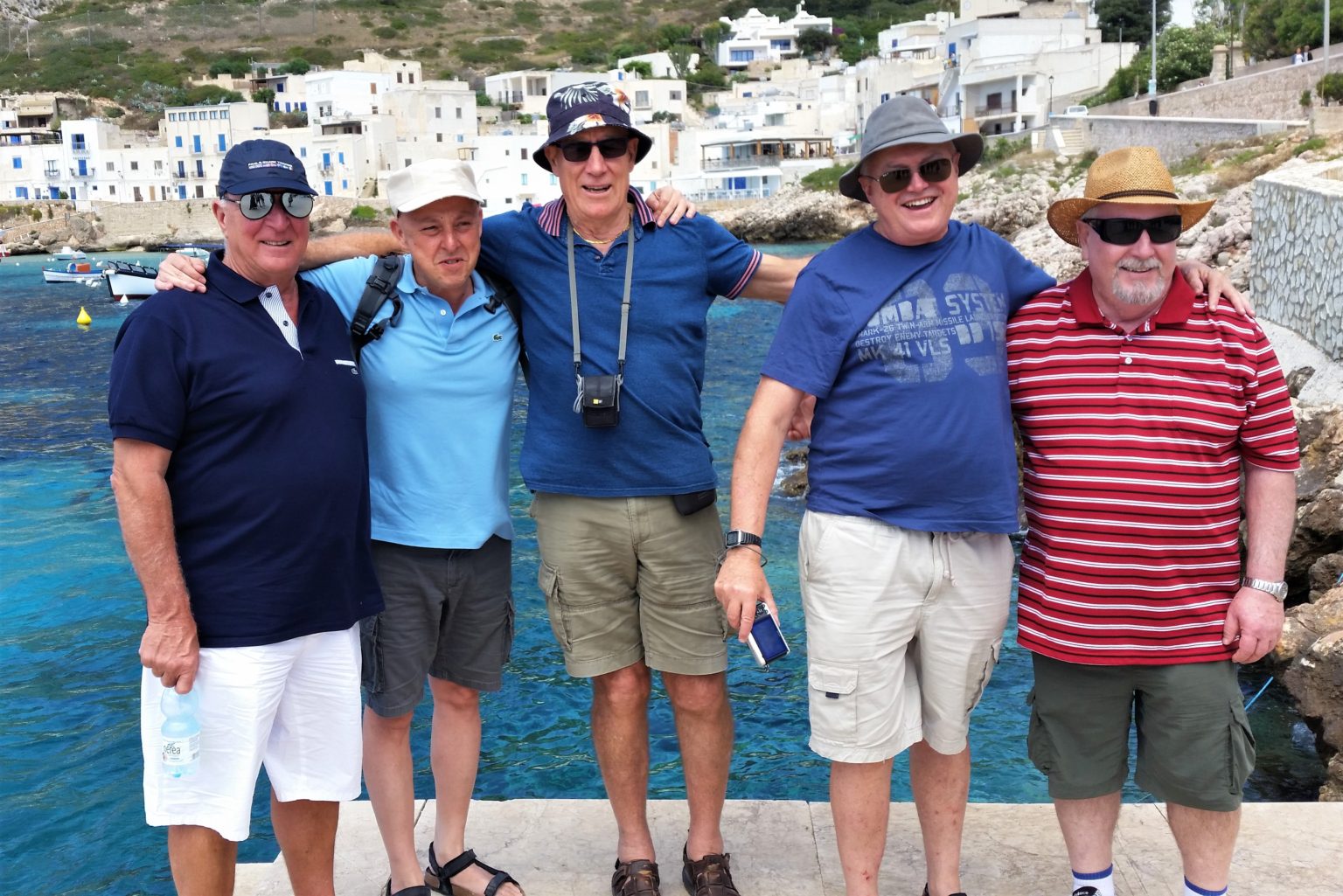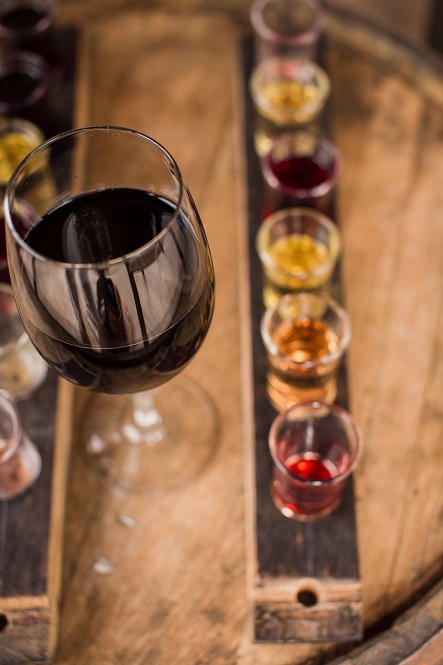 This tour of Sicily includes some of Sicily's historic and well-noted cities and sights. This includes Palermo where the Arabs, Normans, Greek and Spanish among many others left Palermo with a rich imprint of foreign cultures evident in its art, design, architecture and cuisine. Other popular cities on tour include Catania, Ortigia, Taormina and Siracuse  to name a few.  In this tour of Sicily we offer you a wonderful introduction to Sicily. We visit some of the most popular historical sites, galleries and museums in Sicily.  We also take you to places that are a little off the beaten track and not listed in travel books.  This gives you the opportunity to further engage with Sicily and immerse yourself with the Sicilian culture, gastronomy and people.
2025 savouring Sicily Tour
Travelling to: Catania,  Caltagirone, Taormina,  Syracuse, Ortigia, Marzamemi,  Modica, Ragusa, Valley of The Temples, Erice, Trapani, Marsala, Scopello, Monreale, Palermo, Cefalù, Castlebuono
Savouring Sicily - A Tour For the Senses
17th Sept - 2nd October 2025
16 Days
$11804.00 per person ( Double/Twin Room)
$2000 single supplement
Small Group 14 - 16 People
During the tour we visit bustling food markets and towns which are famous for their old techniques and artistry in ceramic and jewellery making.  We Visit the stunning photographic hilltop town of Erice, a picturesque medieval town where you will indulge in specialty pastries and desserts with recipes handed down through the ages.
We taste the real Marsala, visit ancient theatres,  enjoy cooking classes with passionate chefs and foodies and wander through cobbled streets to find hidden treasures, bustling markets and dine on local fresh produce, seafood and meats in slow food restaurants, agriturismo, cantinas, enotecas and more. 
We welcome you to the majestic city of Catania. You will be personally greeted at the airport by myself then escorted by transfer to our hotel right in the heart of this bustling city. You have the day free to do your own exploring of this cosmopolitan city with its close proximity to the sea and views of Mt Etna. We meet in the lobby in the late afternoon for our first guided walking tour into this beautiful UNESCO world heritage city built on the Etna lava stone. We celebrate our first night in Sicily with a traditional aperitif and dinner. Overnight in Catania (D)
Our morning begins with a visit to the historic "La Pescheria", Catania's' famous Arab inspired fish markets with an atmosphere that has remained virtually unchanged for hundreds of years. We enjoy tastings as we go, sampling some of Catania's best and interesting produce. The rest of the day is free for you to further explore this university city celebrating food, culture, music and architecture. If you opt to do the tour to Mt Etna you will head out on 4 wheel drives to explore one of the highest and most active volcanoes in Europe. Your guide will take you on a true adventure exploring the lava from the most recent eruption as well as historical sites, craters and exploring the flora and fauna on this mineral rich mountain.  A light lunch is included in the tour, so just pack your walking shoes and water.  We meet in the afternoon for a cooking class and dinner with passionate local foodies who celebrate slow food in Viagrande. Overnight in Catania (B/D)
Today we drive to our morning stop just outside Piazza Armerina. Here we visit the Villa Romana del Casale one of the finest examples of Roman mosaics and one of the most luxurious of its kind. Villa Romana del Casale, a UNESCO World Heritage Site, is especially noteworthy for the richness and quality of the mosaics which decorate almost every room. We visit a local dairy farm part of slow food Sicily and enjoy a cheese demonstration and long lunch. We board our bus to Caltagirone one of the iconic Baroque towns in central Sicily and known as "The city of Sicilian ceramics" due to its thousand-year-old ceramic tradition. The name itself – Caltagirone – derives from an Arabic word meaning the Castle or Fortress of the vases. Here you are free to wander through the many artisan workshops, do a spot of shopping, visit the Regional Museum of Ceramics and tackle the 142-step monumental Staircase of Santa Maria del Monte, built from 1608 in the old part of the town. Relaxing into the afternoon we  return to Catania for a siesta and give you the night free to enjoy this wonderful city. Overnight in Catania (B/L)
MORE FOOD TOUR DESTINATIONS
Book Now for 2025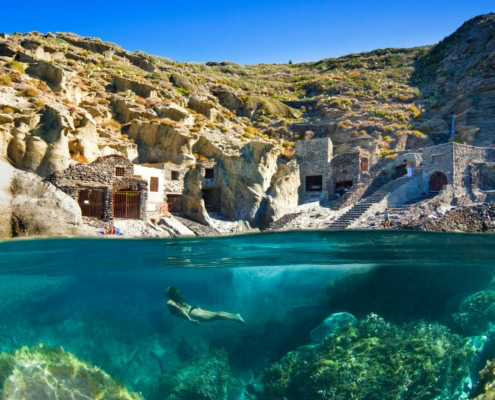 Aeolian Islands & Palermo Tour
10 Days
Enjoy a relaxing 8 days and 7 nights in the beautiful Aeolian Islands and 2 Days 2 nights in Palermo, the bustling capital city of Sicily.
The Aeolian Islands are 7 volcanic Islands sitting northeast of Sicily. 
The islands are an extraordinary and breathtaking destination. They have attracted travellers worldwide ever since the times of classical mythology.
In our private guided Aeolian Islands tour, you will see first-hand what the islands have to offer. 
Gastronomic Puglia Immersion
14 Days
This tour is ideal for those who want an unforgettable vacation living the Italian lifestyle!
Visiting Puglia with us you will discover the real Made in Italy in all its aspects: art, history, ancient traditions, events, delicious food and excellent wine.
Enjoy one of the best parts of Italy: Puglia region, located in the south of Italy with its wonderful local food and wine, fascinating landscape and mild climate!
Exotic and Mystical Morocco​
17 Days
The Highlights of our Morocco trip truly covers a diverse country ranging from fertile fields, captivating mountains, desert sands and arid landscapes as well as cities, small towns and mountain villages each with their own unique characteristics and people.
The trip offers the opportunity to not only experience Morocco's wonderful landscape, but also to meet the people and to learn about their culture and way of life.
Explore the wonders of Sicily
2024
Register your interest for
"SAVOURING SICILY TOUR" 
2025