Looking for the perfect cookbook to add to your collection this Christmas? Chef Dominique Rizzo's 'My Taste of Sicily' is now fully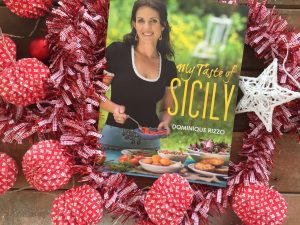 stocked and ready for purchase in store for $39.95. Featuring a selection of traditional Sicilian recipes taken from Dominique's heritage and recreated with modern flair. Available online, Dominique will also be available to personally sign your copy in-store at her restaurant Putia Pure Food Kitchen or make it out to someone special. You can also find a copy of her book inside our fantastic festive Christmas hampers along with a selection of all natural hand and home products together with a handmade fresh fruit and fig Christmas cake.
It is always refreshing to see passionate home cooks share their love for food and Francesca Morgan has done just that. Recently written on her blog 'Almost Italian' Francesca has shared her love for the recipe cuddureddi siciliani biscuits that are featured in My Taste of Sicily. As an avid collector of Italian cookbooks, she described this recipe as 'the most appealing of all the versions in my collection' and noted the biscuits 'contain all the essence of Sicily in one Christmassy filling: almonds, pine nuts, walnuts, figs, sultanas and currants, orange peel and marmalade, cinnamon and cloves, dark chocolate and vanilla, with a pastry moistened with Marsala'. We would like to thank Francesca for sharing such a wonderful piece of writing with the online community and at such a great time of the year. You can read more of Francesca's great work and the full article including the biscuit recipe at https://almostitalian.wordpress.com/.
https://dominiquerizzo.com/wp-content/uploads/2015/11/Christmas-Gift-My-Taste-of-Sicly.jpeg
960
1280
Dominique Rizzo
https://dominiquerizzo.com/wp-content/uploads/2014/09/Dominique-Rizzo-Pure-food-logo.png
Dominique Rizzo
2015-11-19 10:38:29
2015-11-19 12:07:35
MY TASTE OF SICILY