Sicily, like many parts of Europe has so many wonderful historic castles that have survived the ravages of invasion and weather for hundreds of years. You may have thought of visiting one or two of these stately castles when in Sicily, but did you ever imagine learning to cook under the guidance of the maestro in his own family owned castle in Randozza in Eastern Sicily? This is an unforgettable experience I loved sharing on my tour of Sicily.
Signor Scrivano's castle
The maestro Signor Scriviano showed us the art of making classic Sicilian dishes creating a menu of arrancini, caponata, handmade semolina pasta, beef involtini, zucchini fritters, fennel and melon salad and ricotta cassata.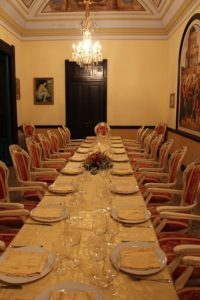 Signor opened his kitchen in his historic castle to my tour guests and me and patiently showing us his artful way of preparing and cooking food using beautiful Italian olive oil, lots of garlic and wine. The piece de resistance of the night was to then dine in the formal dining room of the castle, where the last king of Sicily, King Ferdinand III had dined many years before. The elegance and wealth of bygone days was reflected in the chandeliers, gold-framed mirrors and tapestries artfully hung on the walls. It was a magical setting for such a fabulous taste of Sicily.
Pasta making in Randazzo
Another cooking class with a difference that is one of my favourites when in Randazzo, is with one of the very special locals, Vincenzo, who is passionate about making pasta. Vincenzo has ingenious ways of hand-making a range of pasta shapes using forks and spoons from the cutlery draw. Who would have thought of doing that?
Making pasta shells and tubes is never quite as easy as it looks when Vincenzo is doing it. We had a few reruns of rolling and shaping the dough until some presentable pasta was accomplished.
We all agreed that Vincenzo's ravioli stuffed with spinach and Parmesan was divine. The pasta just melted in your mouth. Enjoyed as always with a glass of Sicilian red wine.
With all that talk of pasta, here is one of my favourite pasta recipes to share with you.
Pasta with Pistachio and Prawns
Pistachio Pesto Ingredients
Makes 3/4 cup of pesto
150g pistachio nuts
50g blanched almonds
1/4 cup parsley leaves, firmly packed
1 clove garlic
1/2 cup olive oil
Salt
Dish Ingredients
1/4 cup olive oil
1 clove garlic
300g fresh green prawns, peeled and cleaned and chopped into
4 tomatoes, peeled and seeded, diced
1/2 cup white wine
Black pepper
1/4 cup chopped pistachio nuts extra
Recipe Steps
Bring a large pot of salted water onto boil. Score the base of the tomatoes and plunge them into the water for 30 seconds or until the skin starts to peel away from the base.
Remove the tomatoes and place them into cold water. Peel off the skin and remove the seeds. Dice the flesh and set aside.
To make the pesto, blend the nuts together in a food processor with the garlic and parsley for that flash of green and slowly add in the oil until the desired consistency is reached. The pesto should not be too runny nor too dry. Season with salt and set aside.
Put the pasta in to boil as directed on the pack, when draining the pasta reserve about 1 cup of the pasta water.
Heat the olive oil in a heavy based fry pan and add in the garlic, fry the garlic for a couple of minutes and then remove it as we want only the flavour of the garlic.
Add the prawns and fry for 30 seconds on each side without moving them around too much. You may need to fry them in batches to avoid them stewing. This should be a very quick sauce so that the prawns don't overcook.
Add in the diced tomatoes and the white wine and simmer for 30 seconds, stir in a good 4 tablespoons of the pesto and add in a little of the pasta water to create a sauce, season with cracked pepper and toss in the drained pasta to cover.
Serve with extra pistachio nuts.
Want an authentic cooking experience in Sicily?
Travel, cook, eat and explore beautiful Sicily with Australian Chef and TV presenter Dominique Rizzo. See when her next tour departs.