For the love of Sophia Loren
My love of classic black and white movies started when I was a little girl and I remember watching the afternoon movie matinee with my dad. The likes of Dean Martin and Jerry Lewis, the Three Stooges, Abbot and Costello, Marilyn Munroe, Doris Day, Tony Curtis to name just a few were some of my favourites. These movies, along with my blue hardcover Film Star Album and a red cover Film Show Annual that were handed down to me from my mother were my most favourite of books to flick through. There was a technicolour style showcasing the famous actors and actresses from the 50s and 60s and they were some of my prized possessions. I recall flicking through and seeing a picture of Sophia Loren and thinking how beautiful and exotic she was in comparison to the other actresses in the books. My father being of Italian heritage would often get very excited when an Italian film or a film starring Italian actors or actresses came on and any film starring Sofia Loren, I found myself mesmerised.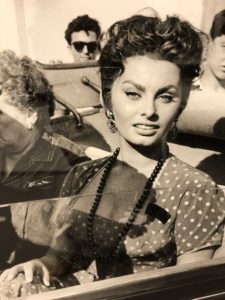 Skip through 40 years and adoration and love for Sofia Loren is still part of my life. I have a signed photo of her hanging in my bathroom; a couple of her cookbooks that I found in a second-hand shop grace my collection, and her memoir "Yesterday, Today, Tomorrow": My Life, was given to me just recently for my birthday, so yes you could say I am a bit of a fan.
On my recent trip to the Amalfi coast, I was in a slight craze when I found there was a wonderful restaurant called " Donna Sofia" in Sorrento that was recommended with rave reviews and dedicated to the Italian beauty herself. As soon as I saw the review, I had it in my mind that I desperately wanted to go.
As we chatted with our driver on a transfer from Naples to Sorrento, he casually asked if we had plans for lunch, and I said no that I had a few restaurants that I was interested in checking out but had not moved any further on the research or booking. The very next thing he said was either synchronicity, laws of attraction, good karma or just as my mother says " how it's meant to be", so my friend… he begins to say, has a restaurant here in Sorrento called "Donna Sofia"… Oh my god! was my reaction and the next minute we had a booking for two, we were getting picked up from the hotel by one of the staff and taken to the restaurant for lunch. I raced through check-in ran upstairs and tried to fix my hairdo…we had been rained on, no makeup and slightly wet hair…it was cold and windy and I felt like I was actually going to meet her.
Upon arrival we were met with such a warm welcome from Mario the owner, his English is very good as he had worked as a maitre d'hotel on a couple of cruise liners in Australia. I explained I was a chef and how enamoured I was with Sofia Loren and of course Italian food. Mario, his wife Lina, who was the chef and our waiter Francesco, could not have been more hospitable as I then began to change seats and tables to obtain the best advantage point for being able to see the most pictures of Sofia as I sat there eating. I immediately started taking photos like some crazed fan and had to have a little talk to myself to just be calm and sit down.
We were handed a menu and as I was so excited not only to be in the restaurant, but the thought occurred to me, I was in Sorrento. I had never been here before and an hour ago I was in Naples, where I hadn't been since I was a little girl. I was in excitement overload. I couldn't decide on what I wanted to eat it was all too much so I asked Francesco to see if the chef could just do us a selection of antipasti.
Sitting on our table were a couple of delicious little canapes of finely diced red ripe tomatoes, garlic and olive oil tossed together and set upon little toasted pieces of bread as our bruschetta taster. They were delicious. While waiting for our antipasti, I wandered around the restaurant adoring the hundreds of pictures of Sofia spanning her entire career. Smiling at the images as I scanned each one I remembered the movie "Scandal in Sorrento" where Sofia plays a fish vendor and gets involved with a retired marshal played by the famous actor and director Vittorio De Sica, and who also played along with Sofia in Pane, Amore e Fantasia…making famous the great singalong "Mambo Italiano".
Our antipasti arrived and to my delight, it was a fantastic fantastia of flavours with 5 little plates bursting with the flavours of Sorrento. Buffalo mozzarella, tomatoes and thinly sliced white onion, the most delicious melanzana parmigiana I have ever tasted, a cold salad of thin strips of cooked calamari with raw marinated artichokes, delicately fried calamaretti – tiny whole calamari which just melted in your mouth and a pumpkin budino, a delicate baked pumpkin savoury pudding. With Italian music playing in the background, Italian flavours exploding in my mouth, and a glass of prosecco to carry the song …I was in heaven.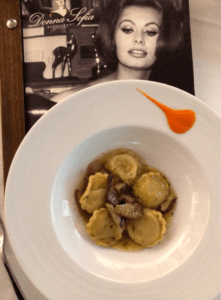 Our second course was a recommendation of Lina, who hand makes all the pasta herself. She had kindly shared the portion between two plates and I was delighted to taste, aldente little full pillows of truffled mushroom, with a plate-licking sauce of butter and porcini mushrooms and a kiss of roasted capsicum puree on the side.
I had also heard about her famous white chocolate oozing pudding scented with orange and lemon. This did not disappoint. Lemons, oranges and mandarins are in full season along the Amalfi coast and line the streets like baubles on Christmas trees, much to my delight as it always makes me feel like summer seeing the Italian citrus in full fruit. Obviously, people have enough at home as no one seems to pick the ones out in public.
We left Donna Sofia with full bellies and a memory that will last forever, thanks to unforgettable warm Italian hospitality and the beautiful Sofia Loren. Day two of our Sorrento visit, we passed by the Chiostro di San Francesco only to see that the acclaimed Italian photographer Raffaele Celentano was having an exhibition called ' The Italians" showcasing 150 works taken all over Italy in the past quarter of a century, also in his collection were a series of Sofia Loren photos. Of course, I just had to visit … was it an omen that twice I was blessed to be able to enjoy this classic beauty in all her glory.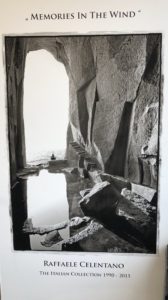 After almost a lifetime of watching her movies, having her grace my bathroom wall, reading her memoirs, flicking through her recipes and wonderful 1970 images, I have now completed the trifecta and eaten in a restaurant dedicated to her talent and beauty and seen lost photos of her in her acting glory. Hand on my heart, I can now say I have visited the town where she is blessed as an honorary citizen…my Sofia Loren dream is now complete.
https://dominiquerizzo.com/wp-content/uploads/2019/04/Dom-in-front-of-sophia-e1554704237720-scaled.jpg
2048
1538
Dominique Rizzo
https://dominiquerizzo.com/wp-content/uploads/2014/09/Dominique-Rizzo-Pure-food-logo.png
Dominique Rizzo
2019-04-08 17:04:11
2019-10-01 04:56:27
For the love of Sophia Loren