When I was a mere 5 years of age was the last time I visited Capri, so really I am visiting for the first time and in all honesty, after my day on Isle of Capri, I could live here forever.
Getting to Capri is very easy.
Accessed only by boat, there are a number of companies and ports in Salerno, Sorrento, Positano and Amalfi from which it will only take you 30 minutes to an hour depending on where you are coming from and which boat you choose.
All boats arrive in the main port Marina Grande which spills into an array of tourist shops, bars, restaurants and ticket booths offering extra boat rides around the island, tours to the famous Blu Grotto, and for the local buses.  There are also private taxi companies who will encourage you to jump into their sexy little convertible cars, great for groups but I chose to take the bus, 7 euro for an all-day 24 hour ticket, valid for all of the busses, most of which will take you to all of the main towns you will want to visit such as Capri, Anacapri and Marina Piccola; a great way to get around the island.
Capri is close to Marina Grande and the main piazzette where most people will hang around and wait for their departures from the island.
To best describe what to see on the island, it is easier to divide the island into its two main towns Capri and high above it Anacapri.  Both of which have their own mayors, rules and regulations.
What to see in and from Capri
For people-watching, there is no better place than Piazza Umberto I, also better known as the "piazzetta" (little piazza), in Capri town. The heart of Capri's social scene, this small yet charming square, lined with cafes and restaurants, bustles throughout the day turning into a more tranquil vibe in the evening as visiting tourists start to depart the island.
For centuries Capri has had a long history and a passionate love affair with artists, writers, aristocrats, actors and actresses and to this day it is renowned for being the place for the rich and famous to come to visit, relax and holiday;  from the likes of Rita Hayworth, Axel Munthe, Audrey Hepburn, Grace Kelly, Gracie Fields, Ernest Hemingway, Sophia Loren, Mariah Carey and Giorgio Armani.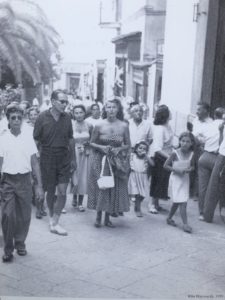 Rita Hayworth
Few places in the world can boast such a high concentration of designer shops of some of the biggest brand names in the world as Capri, I was blown away with the collection of stores and I loved wandering along Via Camerelle, a definite must for any shopaholic or for that speciality piece.
I also found a fabulous Vintage & Designer shop called WOND&RLAND which was almost like a fashion house museum, with unique clothing, bags and some great homewares, a must if even just to have a look.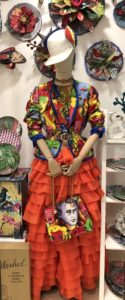 If you'd rather buy something which has been made on the island and which you are unlikely to come across anywhere else, there are plenty of little artisan shops and showrooms in Capri where you'll be able to find just what you're looking for!
Capri town also boasts a stunning coastal walk, known as the Pizzolungo, that takes you to Punta Tragara, bringing you up close to the Faraglioni rocks. Though more challenging, another option is the steep uphill walk to Villa Jovis, which takes about 40 minutes from the piazzetta in Capri. Along the way, you will pass some beautifully-kept homes with gorgeous verdant gardens — and, of course, when you get to the top, the view is amazing!
When in Capri, you also can't miss the famous Via Krupp, the zig-zag street that leads to Marina Piccola.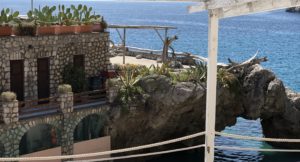 Marina Piccola is perfect for a quiet stop as there are quite a few restaurants and bars dotted along the beach front and also on the road near the bus stop. We stopped at La Piazzetta ristorante, a little expensive for what it was but the views of the water and beach front were beautiful and the food was delicious especially the spinach with butter and parmesan and the fried zucchini, a must to have squeezed with fresh lemon  from the local gardens; a real symbol of the island.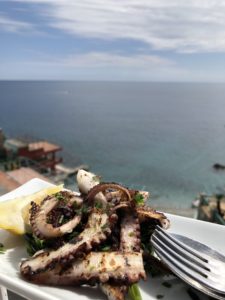 If you're coming to the Capri for long stretches of sandy beach … prepare for disappointment! The beaches on the island are either pebbled, or solid rock, and you will soon see that locals and visitors alike, don't mind relaxing on the hard rock areas that fall into the turquoise waters. In Capri town, you have some equally glamorous clubs, especially in Marina Piccola, which can be easily reached by walking down Via Krupp. Wander down the stairs just in front of the restaurant to reach the beach as it's a perfect spot for some swimming or sunbaking on either side of the Siren's Rock.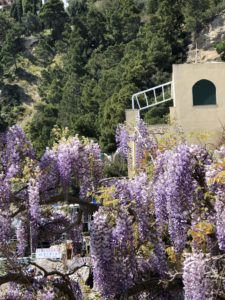 The most famous, La Canzone del Mare, attracts many high-profile visitors; it also offers some luxurious suites.  While many of these private beach clubs come at a price, Capri town has some free beaches, too. One is in Marina Grande, close to where the ferries dock. The water is incredibly clear, but it can be extremely packed.
If wandering through ruins is your thing, then don't miss Villa Jovis, in Capri town. The walk is a little challenging to get to and will take about 40 minutes from the piazzetta in Capri. Along the way, you will pass some beautifully-kept homes with gorgeous verdant gardens, so picturesque with the intoxicating aroma of the citrus and floral notes. The Villa Jovis is one of twelve villas built on the island by Emperor Tiberius in the 1st century AD. Spanning more than 7,000 square meters (2 acres) and built on several levels, it once housed thermal baths, servants' accommodation and official function rooms.
"R.Buonocore" Pasticceria/Gelateria
A must to visit in Capri is the "R.Buonocore" Pasticceria/Gelateria, perfect for a coffee and to try one of their pastries. The ladies all speak English and they also have a great selection of savoury items for lunch that you can enjoy there or take away. Vegetable frittatas, baked pasta, gnocchi, stuffed vegetables and a great selection of side vegetable dishes, perfect if you are wanting something light and to steer away from all of the pasta and pizza. A definite must to try is their "Coda Di Rospo" similar to the Neoplolitan sfogliatelle but filled with a zuppa inglese creama scented with lemon, so deliciously perfect with a good espresso.
Quiet streets of Anacapri
For a quiet and more laid back atmosphere, head to Anacapri and onto the lovely garden at Villa San Michele. Considered one of the finest gardens in Italy, it not only boasts stunning views, but a serene and well-kept garden overflowing with flowers. Built by Tiberius and lovingly preserved by Axel Munthe, the Swedish physician who fell in love with Capri in the 1880s, the villa today has a charmingly refined atmosphere, helped by its formidable position perched high on a limestone ledge.
If you'd rather shop for artisanal or local products, head to Viale Axel Munthe in Anacapri, where you'll find shops with plenty of specialized clothing and crafts.
Continuing the garden theme, head to the Church of San Michele that boasts a spectacular 12th-century, hand-painted mosaic floor depicting the story of the expulsion of Adam and Eve from the Garden of Eden. Both towns boast gorgeous views, but the view from Anacapri's Monte Solaro is especially breathtaking. Monte Solaro is the highest point on the island with a striking 360-degree view of the island. The summit can be reached either on foot or (for a fee) by taking the chairlift.
Another fantastic Anacapri walk is along Via del Migliara, a route that dates back to Roman times; today, it winds past vineyards and orchards. Only about a kilometre long, it's a pleasant stroll where at the end of the route, you will be treated to a fantastic view overlooking the southern coastline. From there, you can even take the path to Torre del Guardia, an ancient watchtower. To truly get off the beaten path, the Sentiero dei Fortini (or "Trail of Forts") in Anacapri runs along the western coastline, starting from the Blue Grotto and heading to the Punta Carena Lighthouse. It's perfect for those who want to experience the "wilder" side of the island!
One of the most popular spots among locals is Lido di Faro, where you get the sun the entire day. This exclusive beach club even boasts a seawater swimming pool, plus is renowned for its acclaimed restaurant. If you really want to do it in style, on top of the hill is the Capri Palace Hotel. Privately owned with fabulous service and an outstanding two-Michelin-star restaurant (with a one-Michelin-star restaurant at its beach club), it looks towards the island of Ischia and beyond to Naples.
Dickens said: 'There is no spot in the world with such delightful possibilities of repose as this little isle'.  I could have spent weeks here just exploring, so to Dickens I say, I will have to agree and I vow to return as soon as I can.
For those of you who are into hiking, lots of walking and step climbing here are your must visits:
Linking the port of Marina Grande with Anacapri and, for many centuries, the only way to reach the town built on the high slopes of Monte Solaro is the 921 Phoenician Steps. Chiselled out of the rock face by the ancient Greeks between the 6th and the 7th century, the steps were used by anyone who needed to transport goods from the Marina up to Anacapri. Much of the hard work was done by the women of the town who carried heavy vases, balancing them on their heads. In the late 18th century as international travellers started to visit the island, donkeys were used to carry their trunks up the stone stairs. I remember seeing the donkeys as a little girl, and people paying to ride up the steep stairs.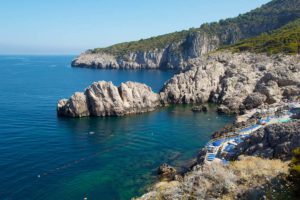 Deciding where to base yourself is crucial. Capri, where the main drag is Bond Street al mare, is heaving with day trippers, but by 7 pm they're all gone and the town settles into a different rhythm.
That said, Capri town does have some stunning views, too. From the Gardens of Augustus, you also have a fabulous view of the iconic Faraglioni rocks. And from Villa Jovis, a Roman villa perched above the town, you can take in the spectacular view of the entire Bay of Naples, as well as Ischia and Procida!
Don't miss our post on 5 of the most beautiful islands in Italy! and more on my food and wine tours.
https://dominiquerizzo.com/wp-content/uploads/2019/04/Dom-in-street-1-e1554878100347.jpg
1823
1332
Dominique Rizzo
https://dominiquerizzo.com/wp-content/uploads/2014/09/Dominique-Rizzo-Pure-food-logo.png
Dominique Rizzo
2019-04-10 16:27:57
2019-10-01 04:56:20
My Day on the Isle of Capri