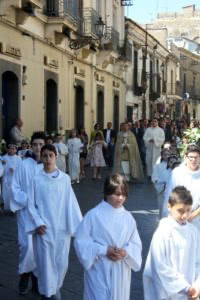 From the coastal town of Taormina and for lovers of very good wines you cannot pass Mt Etna and surrounding towns. This is an area I love to visit on my tours to Sicily. The town of Randazzo is historically, one of the most important towns that rest in the foothills of fuming Etna.
Built entirely of lava stone, Randazzo is home to some of Sicily's best wines using unique grape varieties such as Narello Mascalese. You can also enjoy hand crafted small goods. These are crafted using wild black pigs from the Nebrodi Mountains. As well as traditional cheeses using sheeps milk scented with wild herbs, chestnuts and hazelnuts. The rugged lava terrain and seasonal weather bring to this area of Sicily a very fertile and productive food bowl.
Randazzo
The town Randazzo has been destroyed by war and earthquake although never by Etna's eruption. It therefore offers an amazing medieval atmosphere with a stunning history. Randazzo was divided into three quarters each governed by their own rulers, the Latinos, Greeks and Byzantines, this rich mix gives Randazzo its unique and beautiful architecture and some of the original and beautiful church facades, archways and art works in the whole of Sicily.

Pictures: Lava and pumice stone chiesa; with some of the local gentry; holy communion procession
Wild Food
We share the experiences of salami making, pasta making and enjoying pasticceria from timeless recipes. Randazzo may be a small town that you would normally pass by, but its riches in food and history is definitely something worth visiting. The foods of the mountains are a recognizable change. We leave behind fresh seafoods and make way for fennel-studded flavorsome Sicilian sausages, salami and cheeses. As well, open air dried tomatoes, wild fennel greens, olives, grilled pork, grilled vegetables, rabbit braised with olives, tomatoes and capers. In addition to veal and lemon, ragu sauces, mushrooms and heavier hand made pastas made with semolina flour giving the real al dente bite. One of our memorable meals was a simple roast chicken and potatoes as simple as it sounds it was delicious, the chicken had the most amazing flavour, dusted with oregano, and scented with lemon.
Pictures : Pasticceria from Bar Arturo; Salami from Marcelleria Beviaqua
Pesto using pistachios or almonds is also another favorite. The pistachios from Bronte in Sicily lay claim to the sauce's delicious flavour and deep green colour. This is really a town where you will never go hungry. One of our favourite morning breaks was to stop for a cannoli and coffee. We opted to start a voting system on the best cannoli. The creamy smooth ricotta cannoli filling and cinnamon dusted delicate handmade shell from Randazzo took winning stage.
Accomodation
Our accommodation in Randazzo was a 200 year old farmhouse. It had stunning gardens, stone walls and walkways. We wandered, exploring all the delightful nooks and marveled at the antiques scattered throughout the garden. I loved the wealth of antiques studded throughout the rooms, dining areas and courtyards, the place told a story through time.
Mt Etna
Another highlight was the walking tour to Mt Etna and the ice grotto. Here ice was kept throughout the summer and carried down to the town to be made into granita. Mt Etna with all its majesty is a serene interwoven landscape of lava paths and some of the most interesting natural flora and fauna. Its quite a hike along the narrow paths. For those wanting the full experience you can always take a four wheel drive to the top .Picture: Fresh broad bean canapes
Discover Sicily and its Wild Food
Come along with Dominque Rizzo on a tour of Sicily like no other. Find out when she's going next.