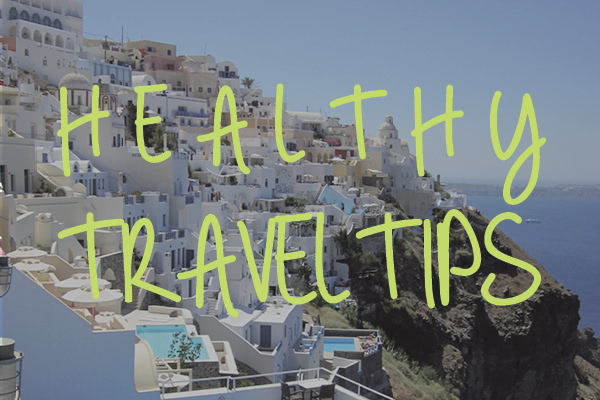 This season it doesn't matter if you are going abroad or just cruising around our beautiful country, there is no excuse to let your health slide. Here are some useful travelling tips to stay in top condition and return home feeling revived and full of vitality.
1) Be well prepared so you can go with the flow.
If you are flying, always drink lots of water, take a small atomiser filled with water to refresh your face during flights. Snack on nuts, almonds, seeds and some small amounts of dried fruits. Eating fresh fruit will fill you up and have you less likely reaching for the chips, breads and salty snacks on the plane tray.
If you are travelling in a car or van cut up fresh fruit and drizzle with lemon juice to ensure no browning occurs. Take some whole meal crackers, cut up carrots, celery and or cucumber and a container of hummus or dip. Baked corn chips and healthier snacks like boiled eggs, snow peas or even your own frozen yoghurt will all stay fresh and chilled stored in an esky. Make yourself a container of fantastic salad, bring along shredded roast chicken or make some wraps. If you start strong – then the temptation to snack at the road side service stations is eliminated and you will save money meaning more to spend at your vacation destinations.
2) Don't be a Spoil Sport….being healthy is not about missing out!
Make sure you take along some of those exciting treats that you love to eat at Christmas to have along the way. Try my gorgeous Chocolate Balls that have no sugar in them – they don't need refrigeration and with their delicious chocolaty flavour you won't believe they are good for you.
3) Make sure you have a healthy breakfast or brunch that will sustain you for hours.
If you are travelling by plane, after a meal get up and walk around to help with digestion and get the blood flowing. Remember we generally only eat 4-6 small meals a day so don't fall into the trap of eating every time the trolly comes around. Ask for fruit and extra bottles of water, and if you feel like a drink, have one but follow it with water. My favourite plane drink is a Virgin Mary – spicy tomato juice, pepper, lots of ice and lemon, I have this when I think I may be hungry as it makes for a reasonably healthy in between snack.
If you are doing an adventure for the day, grab a tub of yogurt, a healthy muesli bar or a pre-made healthy muffin to get you going until lunch, we all know that the fresh sea air makes us hungry.
4) Be restaurant and menu savvy.
If you have to eat out, don't dive straight into the fast food trap. Try to always choose a healthier option – burgers are fine as long as they are loaded with salad, and ask for what you want, say no butter, whole meal bread for a sandwich, grilled fish, dressing on the side – you'll feel better for it and your body will thank you too. Did you know that you can eat up to 18 x fresh oysters or grilled prawns instead of just 3 x fried calarmari – and you won't be denying yourself and again feeling proud of yourself for making the better choices.
https://dominiquerizzo.com/wp-content/uploads/2013/12/healthy-travel-tips-1.jpg
400
600
Dominique Rizzo
https://dominiquerizzo.com/wp-content/uploads/2014/09/Dominique-Rizzo-Pure-food-logo.png
Dominique Rizzo
2013-12-17 06:25:48
2013-12-17 06:25:48
Healthy Travelling Tips