WHY YOU REALLY SHOULD BE EATING GLUTEN AND SIX OTHER ESSENTIAL EXPERT DIET TIPS by Delicious.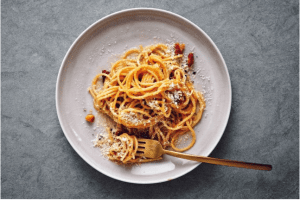 Gwyneth Paltrow's healthy carbonara
Do we really need to be gobbling Himalayan berries and bee pollen to be healthy? What about ditching carbs, gluten and meat? Lindy Alexander clears up some common food misconceptions.
Type "healthy eating" into Google and a whopping 60 million results pop up. Not exactly surprising when you consider that every week brings with it new studies, nutritional claims and trending ingredients that purport to be good for us.
Ideas about eating for wellbeing have changed notably says Kelly Donati, a gastronomy lecturer at William Angliss Institute in Melbourne. For Donati, the emphasis should be on the range of ingredients we eat.
"It's a common misconception that health comes in a package and that individual ingredients are healthy or unhealthy," she says.
We asked some of Australia's most respected nutritionists, dieticians, academics and chefs to set the record straight on everyday food fallacies.
Meat is the best source of protein
"Fifteen to 20 per cent of a healthy diet should be comprised of protein," says Bryce Edwards from Melbourne's Transformer, a restaurant focused on plant-based cuisine. That protein doesn't need to come from meat. Balanced vegetarian and vegan diets have been confirmed as nutritionally adequate by the US Academy of Nutrition and Dietetics. Meat-free sources of protein include beans, pulses, legumes, eggs, yoghurt, nuts and quinoa.
It's expensive to eat well
If you're filling your trolley with acai berries, matcha powder, bee pollen, raw cacao, and spirulina, then your bank account might be taking a hit.
"When people decide to eat healthily, they think they have to get goji berries, coconut oil and chia seeds sourced from exotic places," says Clare Collins, a professor in nutrition and dietetics at the University of Newcastle. "People think healthy eating costs a lot of money and they go back to eating takeaway."
Over a third of the average Australian's diet comes from food such as processed meat, sweets, ice cream, biscuits and cakes. Collins says the commitment starts with eating fewer ultra-processed foods.
"Buy less junk and eat less foods that have a whole bunch of chemical names or numbers in them," she says. "These are energy-dense but nutrient-poor foods." Eating what is in season is the cheapest way to eat well.
Your body needs to detox
"Your body has its own detoxing organs," Collins says. "So as long as your liver is functioning and your kidneys are working, your body is doing its best to detox itself. The best way to boost it is to consume more fruit, vegetables and whole grains."
Our ancestors didn't eat grains or gluten so we shouldn't either
"I don't agree with the Paleo avoidance of grains, legumes and dairy," nutritionist and dietician Dr Joanna McMillan says. "There is good evidence for all of these food types."
Collins also advises against cutting out gluten, breads and cereals without a medical reason. "Whole grains have an independent ability to protect you from heart disease and bowel cancer," she says. "You need basic wholegrain, nutrient-dense foods to fuel your body. If you don't, you are likely to feel tired, cranky and you're increasing your risk of chronic conditions."
Eating well is complicated
"There are many versions of a healthy diet provided it is made up of whole foods," says McMillan. Put simply, that means no or minimal junk foods (such as processed meats, sweetened drinks, biscuits, fried fast food, cakes and other sweet treats) and refined grains (foods made predominantly from white flour).
"You can include meat or be vegan, but we need plentiful plant foods, particularly vegies," adds McMillan.
Grazing is good
We eat far too often and this affects hunger and satiety at mealtimes, according to McMillan. "I recommend only having a snack if you're truly hungry and there are more than two hours until mealtime."
If you can't wait, opt for something simple like a handful of nuts or a bowl of berries and natural yoghurt sprinkled with chia seeds or pepitas.
Fast food is bad for you
Not the new kind. Chef and owner of Putia Pure Food Kitchen in Banyo, Queensland, Dominique Rizzo, says the best kind of fast food is vegetable-based, seasonal and delicious. "I love tucking into a smashed avocado with fresh lemon, chopped cucumber, coriander and diced tomato on linseed and vegetable crackers," she says.
For Bondi chef and The Bucket List owner, Tom Walton, fresh rice paper rolls, lettuce leaf wraps and seasonal fruits are go-to fast foods. "There is no magic trick to healthy food," he says.
"It really comes down to eating a balance of good quality, nutritious foods that are minimally processed."
https://dominiquerizzo.com/wp-content/uploads/2017/02/Screen-Shot-2017-02-27-at-11.12.42-am.png
434
647
Dominique Rizzo
https://dominiquerizzo.com/wp-content/uploads/2014/09/Dominique-Rizzo-Pure-food-logo.png
Dominique Rizzo
2017-02-27 11:44:22
2017-02-27 11:46:01
WHY YOU REALLY SHOULD BE EATING GLUTEN AND SIX OTHER ESSENTIAL EXPERT DIET TIPS by Delicious.