Pumpkins would have to be one of my favourite ingredients: their magical and enchanting connotations, their golden, almost jewel sparkle when cut and their sweet clean flavour.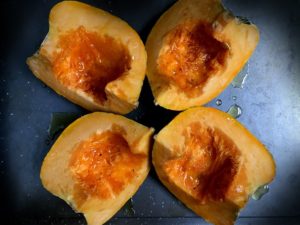 The versatility of the pumpkin is not to be sneezed at either, taking it from savoury to sweet in any nationality of cuisine.
The history of the pumpkin dates back over 7000 years ago with its origin coming from the squash family and a relative of the cucumber. Known all over the world, Antarctica is the only continent where the pumpkin is not grown.
The pumpkin and its many varieties Queensland Blue, butternut, Jarrahdale, Jap, Golden nugget, are widely used as ravioli fillings, soups, gnocchi, scones, pies, stews, curries and really just about anything as its delicate flavour lends itself to all manner of dishes, cooking methods, flavour combinations, and additional spices.
Rich in beta-carotene, high in fiber and potassium the pumpkin, like all other orange-coloured fruit and vegetables, is a great antioxidant. So versatile is it that even the shells of the pumpkin have been used and woven into mats.
The flowers like those of the zucchini are also edible. When cooking, steaming or roasting is preferred to boiling which makes them rather wet and not so appealing.
For intense flavour, pan-frying, roasting or chargrilling over moderate to high heat is best as it caramelises the natural sugars. You can now purchase pumpkin seed meal, oil and pestos that are ideal for salads, dressings and baking.
How to cook pumpkin
Tip for a nutritious snack:
Dry pumpkin seeds on paper towel and then toss with a little oil and sea salt or tamari or soy sauce and roast in a moderate oven of 150 c until dry to touch ( about 40 minutes).
Tip for a perfect side dish:
Zucca Fritta Con Cannella Ed Aglio
Fried Pumpkin with Cinnamon and Garlic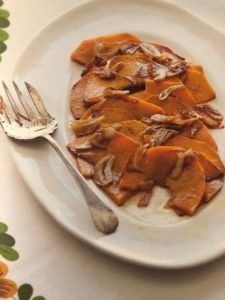 Serves 4
Ingredients:
• 125 ml olive oil
• 700 g kent (jap) pumpkin (peeled, seeded and cut into 5 ml thick slices)
• 3 cloves garlic, thinly sliced
• 1 ½ tbsps. White-wine vinegar
• 3 tsp. White sugar
• ¼ tsp ground cinnamon
• Sea salt and freshly ground black pepper
Steps:
1. Heat a small amount of the olive oil in a shallow frying pan over medium heat and cook the pumpkin in batches for 30 seconds on each side of until golden brown. You may need to add a little more olive oil to the pan. Using a slotted spoon, transfer the pumpkin to a serving dish.
2. Keeping about ¼ cup (60 ml) of oil in the pan, gently fry the garlic over low heat for 30 seconds, taking care not to burn it. Remove the pan from the heat and from yourself as it may splutter when you add the vinegar. Add the vinegar, sugar and cinnamon and season to taste with salt and pepper. Cook over low heat for 30 seconds, and then pour the mixture over the pumpkin.
3. Set the pumpkin aside at room temperature for 1 hour to allow the flavours to infuse. Serve at room temperature.
This how-to cook pumpkin recipe is taken from "My Taste of Sicily" cookbook.
Try some of my other pumpkin recipes like  Salmon and Fennel Risotto with Carrot and Pumpkin 
or   Coconut Poached Wild Caught Barramundi with Chili spiced Pumpkin Salad   
https://dominiquerizzo.com/wp-content/uploads/2016/07/sincerely-media-kKLmuI6uwk8-unsplash.jpg
656
492
Dominique Rizzo
https://dominiquerizzo.com/wp-content/uploads/2014/09/Dominique-Rizzo-Pure-food-logo.png
Dominique Rizzo
2020-01-08 16:56:07
2020-01-08 19:24:36
Pumpkins – One of My Favourite Ingredients