When designing my food and wine tours, I like to experience the cities and towns for myself and that is how I discovered the Top 5 things to do in Sorrento, Positano and Amalfi that aren't tourist attractions.
Sorrento
1. Take a lift ride down through the cliffs to the Marina Piccola for a boat trip to Capri or along the coast admiring the awe-inspiring cliffs and the magnificent villas that cling to them.
Wander around the tiny streets checking out the local shops and enjoy a passeggiata along Corso Italia stopping in at the Piazza Tassa to enjoy an apertivio while watching the passing crowds
Enjoy a delicious coffee, herbal tea, glass of wine or cocktail at D'Anton Design Bistro/Bar, in Piazza San Antonia. D'Anton is a beautiful homeware and decorating bespoke store that will make you want to buy a villa just to decorate it.
2. Wander into the Bellevue Syrene, 5 star Relais Hotel, resting on the cliff's edge in Piazza della Vittoria.
Built in 1820, the hotel's grounds, garden and interior to the villa are a must, enjoy lunch or drinks on their terrace under the beautiful cascading wisteria and overlooking the stunning views of the Bay of Naples, Mount Vesuvius and Pompeii.
Take a sneak peek into some of the open doors that you often see wandering through little towns. You just may stumble across some of the most beautiful interiors of villas often from the 15th and 16th centuries. Most of the private gardens in Sorrento are beautiful, filled with citrus trees, flowers huge ceramic pots, and tiled in hand-painted Italian tiles.
Watch Dominique on location in Sorrento on her YouTube channel: https://studio.youtube.com/video/uiFMzsu3JuI/edit
Amalfi
3. Pick up some new colourful ceramic plates, either for your table or the wall – they make beautiful wall hangings as well as decorative table wear.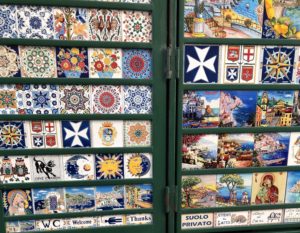 Enjoy an espresso and pastry overlooking the grand 9th Century Duomo di Saint Andrea in the Piazza del Duomo, it's a perfect place to take in that Italian sun, that Italian atmosphere while thinking about your next move.
Wander down the main street, past all of the tourist shops and restaurants and head to  The Paper Museum – Museo della Carta, Amalfi is known for its paper-making tradition. This is a perfect place to stock up on your unique paper for that special letter or as a gift instead of the old tea towel or postcard.
Head to the "Gran Caffe" on the Corso delle Repubbliche Marinare to relax in the afternoon at their lovely clothed tables right near the water. After all of your sightseeing, shopping, eating and while waiting to board your boat, this old cafe will make you feel as if you are back in the 1950s.  Although not winning medals for its food, it is the perfect setting surrounded by lush geraniums in which to enjoy a coffee, or afternoon granita and to just take in that "Amalfi" feeling.
4. Steer clear of the tourist traps for food and head further afield to Trattoria Dei Cartari in Piazza della Spirito Santo.
This is a simple trattoria with surprisingly delicious food.  We ordered the smoked provolone baked in lemon leaf, the baked eggplant topped with olives, capers, fresh cherry tomatoes and anchovies and the pesce aqua pazza, which was amazingly delicious and fragrant with mint in a tasty fish broth and those melt in your mouth potatoes that the Italians seem to know how to do so well. To finish we were tempted by the chef's special recipe for a pinenut, almond and jam tart unique to this trattoria as it is his nonna's special recipe.
Positano
5. Wander through the winding streets and up and down the many stone stairs and allow yourself to get lost in this labyrinth of a town.
Positano is the perfect place to be spontaneous and don't worry about where you are going or where you have been. I guarantee you won't cover the same street twice and there is always a surprise just around the corner.
Have your camera handy and be ready to capture every moment. Positano is a photographers dream. With every corner comes an opportunity to photograph, a beautiful doorway, a fragrant lemon tree or winding branches over archways creating artworks in themselves, or a staircase tiled with stunning hand painted Italian art. These are what postcards are made of so don't buy your friend memories of your journey, take pictures and create your own.
Enjoy an Aperol spritz by the sea. Wander down to the water's edge amongst all the little shops and enjoy a refreshing Aperol Spritz, the perfect Italian summer beverage to sip on while you take in the sea air and all of the action of the beach front. There are quite a few cafes and restaurants that line the sand and I spent hours sitting just taking it all in and enjoying a moment of just being Italian.

Catch up with more of Dominique on her You Tube channel at https://studio.youtube.com/video/hfjy5Z9UgPM/edit
Pick yourself up some hand made leather sandals. There are wonderful artisan leather shops dotted all along the streets of Positano and a perfect place to have your own pair of handcrafted leather shoes made. Tailor-made shoes are no comparison to the ones you just buy in the shops, do yourself a favour and grab a pair.  It's not summer unless you have those gorgeous strappy sandals or a pair of leather loafers to wander around in and take home with you.
There are many great restaurants in Positano and one kept coming up as highly recommended and that is La Tagliata (located up in the mountains). Renowned for its zero miles, amazing value and wonderful menu it is a must to try, catch a local taxi or rent a scooter to make the trip it's definitely worth it. Chez Black and L'Incanto are also great options for lunch and are a little closer to the centre of town and accessible by foot.
https://dominiquerizzo.com/wp-content/uploads/2019/04/Amalfi-April-2019_restorante-scaled.jpg
1417
2048
Dominique Rizzo
https://dominiquerizzo.com/wp-content/uploads/2014/09/Dominique-Rizzo-Pure-food-logo.png
Dominique Rizzo
2019-04-08 13:35:06
2019-10-01 04:56:35
Top 5 things to do in Sorrento, Positano and Amalfi that aren't tourist attractions