Cracking the Misconceptions about Escorted Tours
7 reasons why Dominique Rizzo Food and Wine Tours are better than travelling on your own
That's what cracking the misconceptions about escorted tours is all about.
Better value for money and flexibility with flights
Cracking the misconceptions that escorted tours are expensive is easy when you weigh up the cost and time taken to book and organise your own itinerary. With an escorted tour, you pay the one price up front, usually outlaying a deposit to secure the booking and then using a payment plan to work within your budget to finalise the remainder of the payments. This is a great way of planning a trip in the future as you can make the deposit a year before the trip begins and you have the whole year to pay it off.
Most tour companies include flights in their price, Dominique Rizzo's Food and Wine Tours offer a land price only leaving more flexibility for the traveller to tailor the beginning and the end of the tour to suit any extra travelling they wish to do outside of the tour dates. Most travellers have their own preferred airline they like to travel with, and for the frequent flyer, of course, there are the benefits of using your preferred airline taking advantage of your accumulated points.
Building relationships with local guides/hotels/restaurants and local suppliers mean that we are able to negotiate special rates and our experience in the industry means that our escorted tours are crafted to maximise the efficiency of time and cost for the traveller. Often people look at the price of an escorted tour thinking it is higher than other trips but in reality, an escorted tour is perfectly pre-packaged, designed to take all the planning out, so the only decision you have to make on tour is what to wear.
You have the best of both worlds…Your own leisure time and escorted tours by local insightful guides
People often think that escorted tours leave you no time for yourself to just wander around and explore, which is part of why we all love travelling. Dominique Rizzo's Food tours offer bespoke itineraries with action-packed days ensuring you get to see, taste and experience as much of a region as possible, but you do have the option to do as little or as much as you like. Often it's great to get a guided tour of a city from one of our local guides first, for you to get your bearings of the city, understand the culture, history and the importance of the specific sites and monuments and to work out where it is in relation to the hotel. You can then head out on your own for shopping, wandering or just taking in the atmosphere and really make the most of your free time.
All your transportation is taken care of in private, comfortable, airconditioned comfort booked only for tour guests.
There is nothing worse than seeing large bus loads of tourists pulling up to then get ferried onto trains, boats and planes all dragging their own luggage behind them. Dominique Rizzo's Escorted Tours are small group tours with 12 – 14 people. We travel in comfortable, private, modern, airconditioned small busses for the flexibility of getting onto those small off the beaten-track roads, and narrow cobbled streets often found in Europe. We usually have the one driver for the whole journey who often becomes part of the fun of the tour. Time spent on the bus is minimal in comparison to the rest of the tour, and you are able to leave your belongings on the bus safely when hoping off for lunch or rest stops. Having small group tours means we can accommodate each individual personally, stopping to take photos, bathroom stops and spontaneous places of interest is very easy without fuss or hassle.
The most exciting and fun aspect of travel is often what happens spontaneously, meeting and mixing with the locals and discovering unique experiences that are off the beaten track taking you into the true culture of a region.
Travelling on your own whether you are driving or by public transport, you often will play it safe sticking to guide book routes and recommendations. It's only when you get out of the big cities and meet people "in the know" that you discover the true essence of a region, its people and their culture. This doesn't often happen on mass-produced tours as they tend to stick to a repetitious itinerary with "made for tourist" experiences. Dominique Rizzo's Food Tours are all about offering you unique experiences. Building relationships with local guides who are always on the lookout for diverse and interesting local activities mean that on Dominique's tours you get to really be part of and feel the European culture in the raw. Visiting the families, who make award-winning sausages and salami, walking amongst their black pigs and enjoying some of their products right in the heart of the Spanish hills; meeting and having lunch on their property in Sicily with the family who owns the sheep farm and seeing them in action making fresh ricotta; kneading the dough with the baker in their ancient bakery handed down through generations; enjoying a true Sicily family lunch, cooking with the family, playing cards, is experiencing a culture that has stood the test of time. This is what travelling is all about. After you have seen all the sights, taken a thousand pictures of monuments and churches, it's the memories of the people you meet, the relationships you make, the laughter, the inclusion that sticks in your mind. It is these unique experiences that we are always on the lookout for, so our tours are always flexible and changing.
Dominique is a qualified Chef and restaurateur who personally ensures your food and wine experiences are a highlight on the tour
We would all have to agree that trying new cuisines while travelling is one of the biggest highlights. We cringe at the sight of a "tourist menu" on blackboards, menu boards or menus and we do our best to stay away from eateries who predominately cater for tourists. Also quite often large travel companies aren't so concerned that restaurants tend to all serve the same regional specials or a slight variation of them. Dominique Rizzo's Food Tours ensure you enjoy a wide selection of a region's cuisine, guaranteeing that you are not eating the same dishes over and over again. We focus on hand selecting venues for their quality, location, zero food miles and attention to the "Slow Food" movement, taking great care to maintain their regionality, traditions and diversity, resulting in experiences of the sea, mountain, country and city. Most of the meals and beverages are included on Dominique Rizzo's Food Tours and where we do give you free time to wander and eat on your own, then our lunch or dinner on that day are of bountiful abundance. The main comment on most of our Food Tours is there was "too much" food. We have designed each day to include activities that include tastings of food and or wine-focused around lunch or dinner or both. As well as our hand-selected A La Carte dinners, shared table banquet dining, long lunches, and lavish dinners, we also offer relaxed dining at some of the noted wineries and enotecas or speciality pizza restaurants and also give you the opportunity to practice your language skills, ordering whatever you would like to eat.
Quality, comfort, luxury, style and experience
Dominique's Food Tours focus on giving her clients personalised, professional service throughout the whole tour, from booking the tour right through to saying goodbye. We personally select all accommodation with 4 and 5-star ratings, often with Spa experiences available to give you maximum opportunity to relax and enjoy your stay in that particular region. Our aim is to give you a feel of contrasting horizons, vistas, scenery and emotional connection to the land. From modern city style hotels to historic, converted stone convents, caves and farmhouses in the country and mountains, cliff side rooms with sea views, small-town traditional boutique hotels, and family run Agriturismo. All of the accommodations are unique in their own style; some are quirky, some are perhaps not what we are used to, although all have the modern facilities you need to make you feel at home and are well located giving you the opportunity to head out to explore on your own. This diverse collection makes up the bespoke experiences that come with a Dominique Rizzo Tour.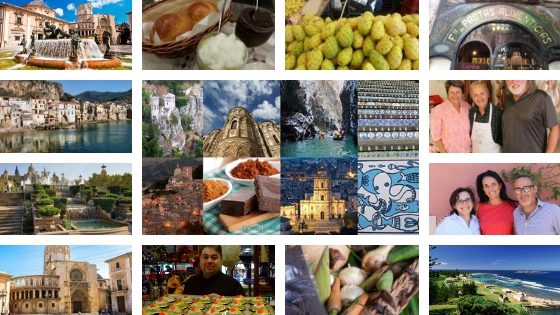 Dominique Rizzo Food Tours are for everyone
There is such a stigma that Personally Escorted Tours are only for the retirees. Dominique Rizzo's clients range from 18 – 70+, retirees, professionals, businessmen and women, couples, single women, single men, mothers and daughters, mothers and sons, siblings. Dominique's small group tours are for everyone and are an amazing way to meet new and interesting people with the same passion and curiosity about the world. Often the tours are a melting pot of people from all different walks of life. Some clients meeting on tour have forged long friendships, often planning their next holiday with Dominique's Food Tours to travel together. For people who may not be able-bodied as others, we do have small amounts of walking on the tour and can accommodate those who find large amounts of walking difficult. In essence, Dominique's Food Tours are perfect for anyone wanting to just sit back, relax, take in the moment and just have a wonderful time. Let all the organising, bookings and logistics of a unique tour be taken care of for you. Book One of Dominique's Food Tours today.
https://dominiquerizzo.com/wp-content/uploads/2019/04/Dom-in-red-dress-on-boat-scaled.jpg
1869
2048
Dominique Rizzo
https://dominiquerizzo.com/wp-content/uploads/2014/09/Dominique-Rizzo-Pure-food-logo.png
Dominique Rizzo
2019-04-03 15:02:59
2019-04-03 15:22:59
Cracking the Misconceptions about Escorted Tours