My Trip To Ustica Island For The Love Of Lentils
Sicilian Food
Travelling to Ustica is sometimes not as easy as just jumping on a boat and off you go. It is a journey of discovery if you are organising the whole thing yourself. My advice would be to go to a travel agency and get them to book your tickets and then confirm with the ferry company the morning of the journey to make sure that the ferries are still running to schedule.
If you are in Palermo and you would like to choose your own adventure, head down to the ticket office on Via F Crispi the morning you would like to go, usually, in the summer there is a 7 am and a 9 am ferry running directly to Ustica. The ticket office usually opens, well not usually, but more often than not opens 1 hour before the journey… really not leaving you too much time to get the ticket and make your way back to the port, however there is a shuttle service at the entrance of the port that will take you to the ferry if you ask making that part of the journey a little easier.
So my morning journey started at 4 am when I woke up out of the blue with the alarm set for 5 so that I could get an early start to catch the ferry at 7 and be on my way… at 7.30 I had already had my double shot cappuccino for the morning a freshly squeezed orange juice which the Sicilians do so well and often by hand and a mini cornetto which I loved. I walked about 6 km around the same areas to find out where the ferry was, asking just as many times was it leaving on time, where to buy the tickets and where did I need to go. More efficiently I could have booked through a travel agency and had them sort the whole thing but I love to indulge myself in the process of natural progression of discovering that life isn't always as smooth or efficient as we are all used to and it is a real test of one's patience and go with the flow attitude to take on the local ways. After a slightly choppy boat ride and gratefully an invitation to step into the fresh air by one of the crew I arrive on the tiny island of Ustica.
My guide Salvatore is one of the proprietors of a couple of restaurants, a hotel, a member of the tourist board on Ustica and until recently a member of the local municipo. The local and main port is Cala Santa Maria, although there are two other ports from which the larger trucks arrive and can access the small winding roads without too much difficulty. The small town wears cracks of times in progress with trucks leaving their marks on balconies and the corners of apartments torn off from turning corners due to the narrow streets and little or no room for the trucks to move. The island itself has all but two roads one that goes one way and the other coming back, both return to the main piazza Umberto Primo, with 1200 inhabitants the island as I found out is a mecca of raw slow food with artisan products, a wealth of local wild produce and a longevity of life that the locals are very proud of with many living beyond a hundred.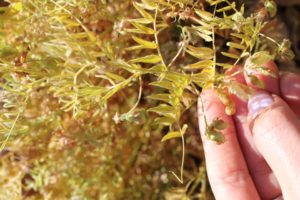 Food is not only enjoyed throughout the entirety of the island but rightly so celebrated as often as possible with Sacra's or sacred days of celebration including the Festa Madonna Pescatore, and towards the end of May there is a 15 day lentil harvest where the entire island community comes together to harvest the unique and sought after Ustica lentils. The lentils of Ustica a presidio of Slow Food fetch a hefty 50€ a kilo off the island and about 12€ a kilo on the island itself. Harvested now my machines they were once collected by having cattle constantly trotting on them in a circular motion until the lentils were removed from their husks. They were then raked up in the air allowing the lentil to drop to the ground and the husks to fly away. Hand collected the lentils were then sorted for stones and rocks packaged and sold or used by the farmers. These unique lentils are similar in size to the du puy although have a brown lentil look to them. Their size and flavour attributing to the rich volcanic soil in which they are harvested. The 9km of road that intwines through the island showcases just how fertile this land is. laden with wild fennel, capers, oregano and wild garlic the Island of Utica is a forages dream. Fave beans, chickpeas, artichokes, peaches, prickly pears, grapes, quince, basil tomatoes, eggplant and a type of broccolini are all harvested on the island sold in the local market stores and for private consumption. The harvesting of olives is recently new to the island with the establishment of a local press where locals can bring their own olives crushing them for virgin olive oil.
Although the island has no wineries as such, again the locals are proud of their private wines with grape varieties such as Grillo Cataratto, Linsolia, and Merlot. Seafood such as gambaretti, octopus, swordfish, tuna, alice or a type of smaller sardine and the popular delicate fish mustina are in the plenty and feature on the menu of the local trattoria menus. Most of the waters are part of the natural marine reserve and can't be fished making the island and surrounding grottos perfect for diving, snorkelling, boat trips and swimming. Although a real treat for travellers and children is to hold a piece of bread in your hand and stand in the water watching all the fish come to eat it out of your hand, no thats cheap and fun entertainment.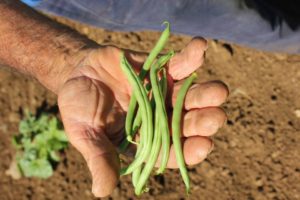 What I loved the most about driving around Ustica island was meeting the locals, Salvatore Palmesano who today still ploughs his fields by hand with his stick and trusting and very popular mule Nicoletto was happy to have a chat and for me to taste some of his fresh beans. Salvatore's father was one of the legends who at 98 was still working the fields from 8 in the morning until dusk and his speciality breakfast consisted of bread with either fresh or dried figs, grapes, peaches or other seasonal fruits. Salvatore is a man of the land with those beautiful working farm hands, his stories could keep you mesmerized for days and his love of all things Ustica shows through his smiling eyes when he speaks of his land, his father and of course his companion Nicoletto.
My next visit was with Signora Maria Cristina, a proud hard working woman with a passion for preserving some of the more traditional sauces and condiments of dishes past. She has a wonderful little shop packed with jars of various sizes, filled with fruit conserves, jams, syrups, pasta sauces, cooked beans, soups, chickpeas, cooked tuna in oil, swordfish in oil, caponata, pates of olives, dried tomatoes, capers, fennel and chilli and the list goes on, I was amazed at how many products she had for sale and the variety and combination of flavours with new products hitting the shelves every few days. Her stainless steel production kitchen fits neatly beside her shop and she loved her work, she told me she worked long hours and there was always something to do. I nodded as she spoke to me knowing how much work, love and dedication she was putting into every little jar. Determined to take home with me a packet of the lentils from Ustica I grabbed a small bag which sat next to a packet of biscuits. I looked at the ingredients of the biscuits to discover that she had invented her own recipe for spiced chocolate lentil biscuits, using the famous Ustica lentils, flour, sugar, cinnamon, chocolate and eggs and they were delicious. I came away from her little shop delighted not only with the gift of my lentils, a hand made shopping bag and a packet of biscuits but filled with a certain gratitude for meeting such a beautifully passionate woman whose products would sit proudly in any gourmet city delicatessen fetching top prices and here she was selling her wares knowing that her prices were low but she wanted people to have the convenience for these delicious products at home knowing how easy it was and is for her to have them on hand for a quick meal.
https://dominiquerizzo.com/wp-content/uploads/2013/05/Dom-225x300-1.jpg
300
225
Dominique Rizzo
https://dominiquerizzo.com/wp-content/uploads/2014/09/Dominique-Rizzo-Pure-food-logo.png
Dominique Rizzo
2013-05-17 11:53:07
2019-10-01 05:03:58
My Trip To Ustica Island For The Love Of Lentils