Learning about a locale through the flavours of its cuisine can add a sublime texture to your cultural exploration. If you have been to Europe, for example, you'll probably remember the grandeur of its cathedrals and palaces—but you'd also recall the those delicious meals which made you say "Wow". Trips to golden Qatar can be filled with the warmth of people's hospitality but also the slow-cooked, aromatic majboos they adore. 
This magic can easily be  whitewashed if the weather falls cold and you didnt bring any warm clothing, you have sore uncomfortable feet, and you have to keep looking for a laundry service. Packing is almost as important as the trip itself , people often ask me "What Should You Wear on a Food Tour"?  Here are a few suggestions…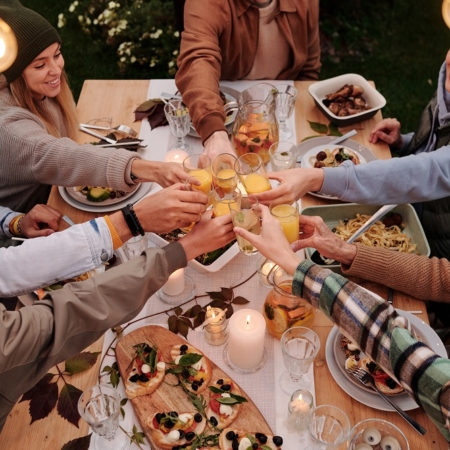 That's why you should consider booking a food tour on your next holiday. The best ones grant you a comprehensive plan filled with the best food and entertainment of the location, plus a friendly tour guide that can take you through the in-depth history of a food site.
A Dominique Rizzo food tour can offer all that and more, as the resident guide has personally visited and designed the experiences she offers.
But what should you wear on these delectable food trips? When working through the delicious itinerary, you will, in a nutshell, want to be safe, snug, and stylish. The following is an overview of how to curate a great food tour outfit.
High-quality sunglasses
Your shades are for more than when you munch on arancini in sunny Sicily or eat shaved ice at a Hawaiian beach.
You'll also need to shield your eyes from harmful UV rays that can cause eye illnesses or dizzying artificial light that can trigger headaches—both of which take away from the wonders of your food tour experience.
Stellar sunglasses brands like Oakley, Ray-Ban, and Puma address those issues. You'll want to consider polarised sunglasses in particular, as they offer better visual clarity and additional protection from sun glare while topping off your look. While Ray-Ban and Puma carry these, you can try Oakley for its patented PRIZM lens technology that enhances colour, contrast, and detail—so you can see your food in all its mouthwatering glory whenever you dine al fresco.
Versatile layering
Bringing along an extra layer is good practice so the chill doesn't mar your experience.
Dress depending on the local weather, though. Sampling the sour sinigang of the tropical Philippines? Consider taking a simple shawl or an Outdoor Research rain jacket for monsoon season.
Excited to try hot Kjøttkaker meatballs in freezing-cold Norway? Don't forget to pack a toasty Arc'teryx Patera winter parka. If you want complete versatility—for example, if you're willing to brave Alaska's erratic weather patterns for a bite of their smoked salmon—consider the Flexwarm jacket, which can adjust the jacket to your ideal temperature.
Stretchy pants
What to wear for your bottoms has long been a dilemma for food tourists. On the one hand, you want to avoid feeling stuffed in your denim jeans midway through eating Indonesia's succulent babi guling.
On the other hand, wearing form-fitting tights can seem disrespectful to more conservative food site locations, such as when sharing a Nihari meal with Pakistani locals. A great middle ground is flared leggings, also known as jazz pants.
Initially popular in the '90s, these bottoms are experiencing a resurgence in popularity thanks to celebrity praise from the likes of Rihanna, Hailey Bieber, and Emily Ratajkowski and because they fill the need for a comfortable but relatively polished pair of pants. Brands like Nike and Glassons have their iterations, but you can get a great pair at Kmart.
Many customers attest to its butter-soft fabric and flexible, flattering cut—perfect to put on when you're expecting to eat more than a few food portions.
Comfortable shoes
The promise of luxuriant fare doesn't mean you'll stay sedentary on your food tour. These experiences can double as walking tours, with your guide taking you through streets and sites to discover the best hole-in-the-wall restaurants and food stalls.
As such, you'll want comfortable shoes. A pair of Hedgehog Fastpack Gore-Tex shoes from North Face is a great choice—they're walking runners with cushioned Vibram soles, and thanks to their Gore-Tex technology, they're weatherproof. You'll be able to stomp through even the thick snowfall of Buffalo, New York, to get to their spicy wings.
You don't want anything to detract from your delicious meals during a food tour, especially not your clothes. Remember to wear these essentials on your next food adventure.
*** Top Tip
Pack light – you will regret packing too much when you realise you can't fit in any of your shopping while overseas
https://dominiquerizzo.com/wp-content/uploads/2023/10/directly-above-shot-of-personal-accessories-in-royalty-free-image-1004908258-1554756573.jpg
1197
1200
Dominique Rizzo
https://dominiquerizzo.com/wp-content/uploads/2014/09/Dominique-Rizzo-Pure-food-logo.png
Dominique Rizzo
2023-10-21 12:12:41
2023-11-20 18:31:32
What Should You Wear on a Food Tour?