Perched on a hilltop like many hidden treasures is the town of Caltagirone, the town of ceramics.
A place which always takes my breath away on my trips to Sicily, is Caltagirone.
A long time ago, the soil here was perfect for making the original terracotta pots used by the Greeks. The original designs were usually yellows and browns with geometric patterns. Influences from the Arabs brought the art of firing. Pottery also became highly decorative with the introduction of colours such as blues and yellows. Designs became more intricate.
The ceramic stairs
On your trips to Sicily, you will find a major interest in this tiny town with it's wonderful staircase studded with decorated tiles. Colourful hand painted tiles line each of the 142 stairs. They entice you to journey to the top where the views of the town are magnificent. During the festival of the Madonna, the locals will line the stairs beautifully with tubs of flowers precisely placed. They form a floral design when you view the staircase from the bottom or top. In the evening they line the stairs with candles. This makes for an amazing photo and unique visiting experience.
They are often studded with the iconic ceramic pine cones that feature in many ceramic shops throughout Sicily.   The road leading into Caltagirione is lined with vases and glorious coloured cones.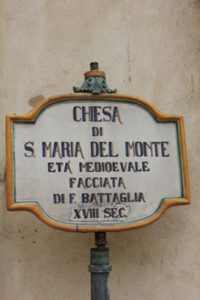 They remind you that this is the town of the vases. While browsing the many stores, you will notice that the ceramics come in many designs. With traditional and artisan patterns, some historically original and others unique to each artist. You can often find artists hand painting the ceramics as you enter in the stores.
The ceramics are not only a sight to behold in Caltagirone, they are a fantastic experience of Sicilian culture that you can enjoy on my Sicilian Tours.
For the latest news on trips to Italy, go to Dom's travels to Italy and Sicily, and her next tour dates
Any questions? Contact me.
https://dominiquerizzo.com/wp-content/uploads/2019/12/Caltagirone-_-Flickr.jpg
500
363
Dominique Rizzo
https://dominiquerizzo.com/wp-content/uploads/2014/09/Dominique-Rizzo-Pure-food-logo.png
Dominique Rizzo
2019-12-18 11:49:49
2019-12-18 11:49:49
On your trips to Sicily, Caltagirone is a must-do